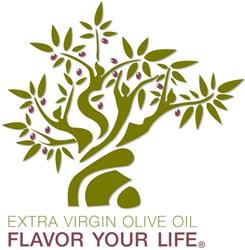 Bohemia, NY (PRWEB) February 12, 2014
Flavor Your Life, a European Union funded campaign dedicated to providing the latest in olive oil news, reveals some tips and recipes in order to incorporate olive in a four-course dinner. An appetizer, a first entree, a second entree, and a dessert recipe are featured.
Olive oil is a versatile ingredient that can be used in savory and sweet dishes thanks to the myriad of different available flavors. It is a valuable food for health purposes and also the perfect companion in the preparation of delicious, decadent dishes.
For an appetizer, try a Three Color Salad made with two packages of buffalo mozzarella, four tomatoes, three cucumbers, arugula, capers, lemon juice, delicate extra virgin olive oil, salt, pepper, and fresh basil. First, wash and cut the vegetables. On a plate, first place the green vegetables, add the mozzarella in the middle, and then cover with the tomatoes. Sprinkle the capers and basil on, season with lemon juice,olive oil, salt, and a pinch of pepper, and enjoy!
For the dinner's first entrée, Tagliolini with herbs is a great choice. You will need 400 grams of tagliolini ribbon pasta, a clove of garlic, three sage leaves, one sprig of thyme, one sprig of rosemary, a few marjoram leaves, three basil leaves, three mint leaves, 50 grams of grated pecorino cheese, 50 grams of Parmesan cheese, four tablespoons of extra virgin olive oil, salt, and pepper. First, chop the garlic and all the herbs, and then fry them lightly in a pan with oil. Cook the noodles in salted water, then drain and toss them with the herb sauce.Add a drizzle of olive oil and then sprinkle with pepper.
For the dinner's second entrée, try this recipe for sheets of sea bass with olive oil and mango concasse. This recipe, which serves four, needs one sea bass weighing approximately 2kilograms, one ripe mango, delicate extra virgin olive oil, peppercorns, and curly parsley. First, fillet a side of the wild sea bass weighing approximately 2 kilograms with the appropriate knife and cut it into thin sheets in the lengthwise direction of the fish. Arrange the fish onto the plate. Sprinkle salt to sweat the fish for about ten minutes,then add the extra virgin olive oil. Garnish the dish with curly parsley.
For dessert, this sweet cake made with olive oil is a decadent treat and a delicious ending to any meal. It requires one cup of citrus fruit yogurt, one jar (the same quantity as the yogurt) of extra virgin olive oil from Liguria (it is essential that the oil is very sweet and delicate in taste), two cups of sugar, three cups of flour, three eggs, one dose of baking powder, and the grated rind of one lemon.Place everything in a bowl and mix well. Bake in the oven for about 30 minutes at 180 degrees and then sprinkle with icing sugar.
Flavor Your Life, a campaign supported by the European Union, Unaprol and the Italian Ministry of Agriculture, is dedicated to providing the latest in industry news and health information about European extra virgin olive oil. Extra virgin olive oil enhances the flavors of your recipes while providing health benefits. Flavor Your Life campaign, the voice of olive oil production quality control, aims to educate consumers so they can make informed decisions when purchasing olive oil.