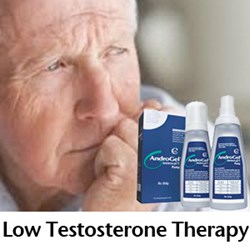 If you or a loved one has experienced serious side-effects from Low Testosterone Therapy please contact Alonso Krangle LLP for a free consulation at 1-800-403-6191 or by visting fightforvictims.com
New York, NY (PRWEB) February 10, 2014
Alonso Krangle LLP, an experienced defective drug injury law firm, is now evaluating testosterone therapy lawsuits on behalf of men who suffered heart attacks, strokes and other life-threatening cardiovascular events, allegedly due to their use of AndroGel and other prescription testosterone treatments. The Firm launched its initiative after the U.S. Food & Drug Administration (FDA) announced it was investigating testosterone, therapy in the wake of several studies indicating the use of these medications might be associated with an increased risk of heart attack, stroke and death, and recent AngroGel lawsuit that alleged heart attacks from low T therapy.
[Case Nos: 1:14-cv-00776, 1:14-cv-00780, 1:14-cv-
00777, and 1:14-cv-00772]
[fda.gov/Drugs/DrugSafety/ucm383904.htm, January 31, 2014]
Court documents indicate that four AndroGel lawsuits were filed in U.S. District Court, Northern District of Illinois in the wake of the FDA announcement. The lawsuits claim that the use of AndroGel caused the plaintiffs, who had no prior history of heart disease, to suffer heart attacks, heart failure and strokes. The attorneys of Alonso Krangle LLP believe that many more testosterone therapy lawsuits will be filed over similar allegations in the future, as more men become aware of the concerns surrounding these medications. [Case Nos: 1:14-cv-00776, 1:14-cv-00780, 1:14-cv-
00777, and 1:14-cv-00772]
The recently filed testosterone therapy lawsuits allege that the maker of the drug created a market for low t therapies by using direct-to-consumer advertising that encouraged men to seek medical treatment for the normal effects of aging, including low energy levels, weight gain and diminished sex drive. Plaintiffs further allege that these marketing methods have resulted in many men being treated with testosterone drugs, despite having normal levels of the hormone.
The FDA launched its safety review of low t therapies in January 2014, after an observational study published in the Journal of the American Medical Association (JAMA) in November 2013 suggested that older men with underlying heart disease faced a 30-percent increased risk of stroke, heart attack, and death if they were undergoing testosterone therapy. A second observational study cited in the FDA alert suggested a doubling of the risk of heart attack in older men, as well as in younger men with pre-existing heart disease, who underwent testosterone therapy. [fda.gov/Drugs/DrugSafety/ucm383904.htm, January 31, 2014]
While the FDA hasn't yet reached any conclusions regarding the possible association between the use of testosterone therapy and an increased risk of heart attacks, strokes or death, the agency has cautioned doctors to weigh the risks and benefits of these drugs before prescribing them.
For additional information on Low T visit our page on Low Testosterone Therapy for the latest updates.
Alonso Krangle LLP is offering free testosterone therapy lawsuit reviews to men who may have suffered serious heart problems due to low t therapy. To learn more, please contact one of the experienced consumer injury lawyers at Alonso Krangle LLP by ca may calling 1-800-403-6191 or visit our website, http://www.FightForVictims.com.
About Alonso Krangle LLP
Andres Alonso and David Krangle, attorneys with almost 40 years of collective legal experience, have focused their law practice on the handling of significant personal injury cases, defective drug and medical device litigation, construction site accidents, nursing home abuse, medical negligence, qui tam/whistleblower actions and consumer fraud cases. A nationwide law firm representing injured victims throughout the U.S., Alonso Krangle LLP is headquartered in Long Island, New York, with offices in New York City, and New Jersey. To discuss filing a testosterone therapy lawsuit, please contact Alonso Krangle LLP at 1-800-403-6191 or visit our website, FightForVictims.com
For more information about Alonso Krangle LLP or to join the fight and be a part of our team, please contact us at 1-800-403-6191 or visit our website, http://www.FightForVictims.com
Contact:
Alonso Krangle LLP
445 Broad Hollow Road
Suite 205
Melville, New York 11747
Toll-FREE 1-800-403-6191
Tel: 516-350-5555
Fax: 516-350-5554