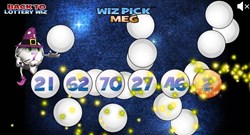 Changing the way people play online lottery games.
Dix Hills, NY (PRWEB) February 12, 2014
The future of online lottery games has arrived, and the Lottery Wiz™ app provides a fun and exciting way to pick randomly generated lucky numbers for all of the popular lottery drawings.
The Lottery Wiz™ app is absolutely free and is available for iOS and Android devices. The app can be download at http://www.lil-lottos.com. On the app players will meet the Lottery Wiz™, a fascinating lottery ball Wizard who will use all of his magical powers to help players pick their lucky numbers for Pick 3, Pick 4 and progressive lottery games.
"With Mega Millions® and Powerball® jackpots consistently reaching hundreds of millions of dollars, it won't be long before the first Billion Dollar Lottery Drawing takes place," said Steven Brandstetter, J&S Gaming President, "Several states currently sell lottery tickets online and it is our aim to help bridge the gap between the convenience stores and the online lottery games, while offering an entertaining experience to all lottery players."
About J&S Gaming, Inc.:
Based in New York, J&S Gaming provides creative online gaming content featuring the company's proprietary Lil Lottos™ lottery ball characters. For more information, please visit the Company's website at http://www.lil-lottos.com.
Contact:
Steven Brandstetter
J&S Gaming, Inc.
12 May Hill Lane
Dix Hills, NY 11746
phone: 1.516.655.6926
email: steve(at)lil-lottos(dot)com
# # #