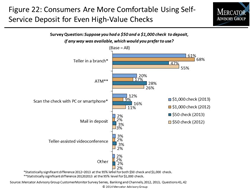 The proliferation of mobile channels appears to stimulate ATM and self-service use, not supplant it.
Boston, MA (PRWEB) February 10, 2014
Mercator Advisory Group's fifth in a series of eight Insight Reports presenting findings of 2013 CustomerMonitor Survey Series reveals that while more consumers still prefer to use bank tellers to deposit checks, increasing numbers of U.S. adults prefer to use self-service methods for check deposit, primarily ATMs or their own mobile phones or computers. Responses from an expanded sample of 3,001 U.S. adults were collected in the annual online Banking and Channels survey, conducted in November 2013. The survey finds that preference for depositing at ATMs is increasing for both $50 checks. Consumers also increasingly prefer to use their mobile phones and computers to remote deposit capture $50 checks. This is especially true for smartphone and tablet owners, who are just as likely to prefer to deposit via ATMs or remote deposit capture as to prefer to use a teller to deposit $50 checks.
Self-Service, ATM, and Other Channel Banking: Rising Use in a Mobile Era, the latest report from Mercator Advisory Group's Primary Data Service, highlights consumers' rising use and interest in a wider variety of self-service and ATM channels, especially consumers who are most technically agile in using smartphones and tablets and mobile banking.
This study examines the demographic shift, changing preferences, and use of self-service channels compared to traditional branch banking and identifies trends in consumer methods of communicating with their bank and frequency of contact, methods, and preferences for getting cash and depositing checks; use of ATMs by type and location; willingness to pay surcharges for convenience; importance of ATM characteristics in new bank selection; interest in using mobile cash access, self-service kiosks, and videoconferencing for discussions with banking specialists and separately for conducting bank transactions.
"The proliferation of mobile channels appears to stimulate ATM and self-service use, not supplant it," states Karen Augustine, manager of Primary Data Services including the CustomerMonitor Survey Series at Mercator Advisory Group and author of the report.
Highlights of this report include:

Year-over-year trending of U.S. adult consumer use of self-service banking channels and frequency of use by each method
Frequency and use of ATM deposits, envelope vs. no-envelope, cash vs. checks
Demographics of preferred methods of depositing high- and low-value checks
Shifts in methods of getting cash and depositing checks
Importance of ATM features and functionality in new bank selection
Importance of enhanced functionality, payment services, and coupons and rewards offered at the ATM
Trends in use of and interest in in-branch videoconferencing with product specialists or teller-assisted videoconferencing for conducting transactions
The report is 66 pages long and contains 28 exhibits.
Members of Mercator Advisory Group CustomerMonitor Survey Series Service have access to this report as well as the upcoming research for the year ahead, presentations, analyst access and other membership benefits.
Please visit us online at http://www.mercatoradvisorygroup.com.
For more information and media inquiries, please call Mercator Advisory Group's main line: (781) 419-1700.
For free industry news, opinions, research, company information, and more, visit us at http://www.PaymentsJournal.com.
Follow us on Twitter @ http://twitter.com/MercatorAdvisor.
About Mercator Advisory Group
Mercator Advisory Group is the leading independent research and advisory services firm exclusively focused on the payments and banking industries. We deliver pragmatic and timely research and advice designed to help our clients uncover the most lucrative opportunities to maximize revenue growth and contain costs. Our clients range from the world's largest payment issuers, acquirers, processors, merchants and associations to leading technology providers and investors. Mercator Advisory Group is also the publisher of the online payments and banking news and information portal PaymentsJournal.com.