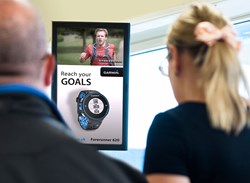 Our active out-of-home audiences and range of new products in 2014 neatly fit Amscreen's ability to capture and efficiently target these audiences.
(PRWEB UK) 11 February 2014
Garmin has re-signed a year-long advertising deal with global digital screen media provider, Amscreen, to promote a range of devices including their new Wellness range. This deal with the UK's largest digital outdoor screen network, now including the recently added Tesco network, ensures Garmin has a presence across 2500 sites reaching more than 30m adults each week. This UK-wide reach will allow Garmin to segment the portfolio to help highlight their association with key events such as The British Open and Isle of Wight Walking Festival.
2014 marks 25 years of innovation for Garmin, including a range of industry leading devices across multiple categories including marine, cycling and running. This year, Garmin are set to launch over 60 new products with a focus on both their automotive category as well as their Wellness range, which includes products such as the vívofit, set to launch in Spring 2014; a small wearable all-day activity monitor measuring steps, distance, calories burnt and intensity of exercise.
The 12-month deal with Amscreen follows a sponsorship across 2013, which included traffic sponsorship as well as an array of tactical event support. Traffic updates are the most valued content on the Amscreen digital estate and Garmin will continue to sponsor this feed for the second year running. Garmin will also use the networks' UK wide reach to reinforce their association with key sporting events, whilst also providing valuable traffic data to motorists around these congested areas.
As part of Garmin's focus on their wearable technology such as the vívofit and the Forerunner range, they will be inviting owners of this technology to register and contribute to event based content which will then feature on the advertising screens in the local areas. This will include a real-time running tally of the total miles clocked up by all participants. The screens will also pull social media chatter being generated around the event. This kind of social content will also drum up support for local participants and the events themselves as well as getting the larger community more involved.
Garmin will also be employing Amscreen's unique facial detection technology, OptimEyes. This will allow Garmin to target specific audiences ensuring the right product is being presented to the most applicable audience based on automated gender and age profiling.
Simon Sugar, Amscreen CEO said, "We're very proud to have Garmin sign up for a second year. We have some fantastic activity planned, including multiple pieces of event support activity as well as some innovative uses of our new technology, including our OptimEyes (facial detection) platform."
Dawn Ramsay, UK General Manager of Garmin commented, "After 25 years of innovation, we continue to not only look for new innovations in terms of our product portfolio, but also in the way we reach our consumers across territories. Our active out-of-home audiences and range of new products in 2014 neatly fit Amscreen's ability to capture and efficiently target these audiences across the UK."
About Amscreen:
Amscreen is a worldwide digital outdoor advertising and screen solutions network reaching 60 million adults each week via 6000+ screens - it's also the UK's largest single portfolio of digital screen media. Amscreen focuses on reaching audiences in high dwell, close proximity environments helping to deliver millions of viewers every day across the UK, Europe and beyond. The partners and estates helping to deliver this audience include Tesco, Halifax, BP, Aral, Londis and WHSmith amongst others. The core estates Amscreen work within include Convenience, Forecourts, Travel Hubs as well as GP Surgeries throughout the UK.
Measurability and flexibility are at the heart of the Amscreen business helping to deliver an ad solution that now more closely reflects a convergence of Outdoor with online. This array of audience measurements and insights are obtained from EPOS, location and demographic insights as well as our revolutionary new OptimEyes face detection technology. For a more detailed overview of this please go to:
http://www.amscreen.eu/optimeyes-real-time-insight-for-digital-media-advertising
These insights are then leveraged to deliver an array of creative solutions through Amscreen's unique content delivery systems allowing day-part targeting, site specific (GEO), audience specific, live feeds, reactive advertising as well as automated localised content and much more.
Amscreen's has seen recent rapid growth in both its advertising division and solutions division. Advertising networks are now present across 3 continents including countries such as Germany, Poland, Luxembourg, Switzerland, Austria UAE, Australia and Kenya amongst others. The Solutions division provides both back of house and front of house messaging which is helping businesses to more effectively engage both staff and consumers in store helping to drive point-of-sale purchases.
For more information on Amscreen, visit http://www.amscreen.eu.