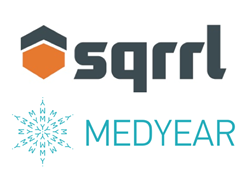 The partnership with Sqrrl allows us to build that ideal unified technology system that the healthcare industry needs
Cambridge, MA (PRWEB) February 11, 2014
Sqrrl, the company that develops secure database software for Big Data applications, has partnered with Medyear, the world's first personal health exchange. Sqrrl's NoSQL database, Sqrrl Enterprise, enables users of Medyear to securely exchange any type of health information electronically. Medyear is HIPAA-compliant and meets the strict government security and privacy standards that govern the ability to transmit information in the first place.
This partnership enables individuals to maintain full control over their health information, with the advantages of end-to-end security and on-the-fly privacy flexibility. The Sqrrl and Medyear partnership comes along at just the right time –very soon, as a result of health reform, millions of people will actually be able to directly download their healthcare information.
"We are very excited to partner with Medyear and enable the sharing of personal healthcare data," said Ely Kahn, VP of Business Development of Sqrrl. "Shifts in healthcare are dramatically increasing the need for a person to possess their own health care records and to share their records as they see fit. This introduces a complex array of new privacy norms. Through our partnership with Medyear, we are building the modern tools necessary to do so confidently and securely."
Using Medyear is easy. Upon sign-up, users create their own Medyear address and then simply provide it to their healthcare providers obtain their digital records. Once they have their records, they can then control their information however they want using simple functions inspired by the world of social networking. Medyear emphasizing being open-ended and flexible – people may share with a doctor, among friends, with strangers, or donate to science.
"It is my pleasure to announce the launch of Medyear Beta," says Panha Chheng, Founder and CEO of Medyear. "The partnership with Sqrrl allows us to build that ideal unified technology system that the healthcare industry needs. The immense power of the Sqrrl platform will help us in reaching our lofty goals of accelerating health reform, improving patient outcomes, and advancing medical research."
About Sqrrl
Headquartered in Cambridge, MA, Sqrrl was founded by computer scientists from the National Security Agency (NSA). As part of the team that created Apache Accumulo, Sqrrl founders have been working with some of the largest, most complex and most sensitive data sets in the world. Today, Sqrrl Enterprise is the world's most secure, scalable, and flexibleNoSQL database for real-time Big Data applications. It is the only NoSQL solution that possesses fine-grained security controls, scales elastically to tens of petabytes of data, and supports a diverse set of analytics, including graph, SQL, statistics, and full-text search. Sqrrl's understanding of security and Big Data technologies enables organizations to securely unlock the potential of Big Data. Learn more at http://www.sqrrl.com.
About Medyear
Medyear is the world's first personal health exchange. It allows people to download clinical records directly from healthcare organizations to share however you want. Medyear provides end-to-end security, privacy flexibility, and clinical integration - all through an intuitive and simple social networking experience. Data is handled in a HIPAA-compliant manner and is governed by a comprehensive privacy policy and terms of use. Learn more at http://www.medyear.com.