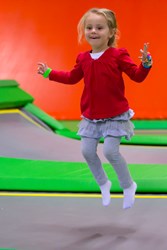 Tulsa, Oklahoma (PRWEB) February 11, 2014
We know how hard it is for parents of special needs children to find a fun and safe place for them to play. That's why we decided to introduce Special Needs Monday, a time for children with special needs to be able to play in a safe environment. We're letting any child with special needs receive a 30 minute jump for free every Monday between 3 p.m. to 8 p.m.. There is no cost for the child to enter the facility and the special trampoline "gripper socks" are included.
The hour between 3PM and 4PM each Monday is exclusively for special needs children. This allows our referees to be diligently monitoring the jumpers to ensure safety for all. This exclusive time also ensures that the children do not get overwhelmed with a large crowd and loud music. Parents are encouraged to jump with their children to keep them comfortable and secure. Children 4 and under require parental supervision on the trampolines at all times.
With Special Needs Night, Spring Town Trampoline Park is able to give back to the community. It's hard for parents of special needs children to find a safe place to play, so we wanted to do our part in making it just a little easier for these children to have a fun experience. Find out more about Spring Town Trampoline Park here.