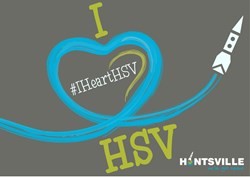 We're excited for our followers and friends across the world to share what they 'heart' about Huntsville.-Judy Ryals, President/CEO
Huntsville, AL (PRWEB) February 11, 2014
New #IHeartHSV social media campaign asks people to share Huntsville favorites, prizes awarded daily.
Just in time for Valentine's Day, the Huntsville/Madison County Convention & Visitors Bureau (CVB) is asking its social media followers to name their Huntsville/Madison County favorites – those attraction, dining, shopping and off-the-beaten path places and activities that they love most – using the hashtag #IHeartHSV on Facebook, Twitter and Instagram. Starting today, February 10th, and lasting until Monday, February 24th, the Huntsville/Madison County CVB will pick a winner each night at 7 p.m., awarding the most creative posts and pictures with Huntsville/Madison County prizes.
Those who participate in the campaign could even see their photos selected for use in promotional pieces for Huntsville/Madison County that are distributed to a national audience.
"There's so much to love about Huntsville/Madison County," President and CEO of the Huntsville/Madison County CVB Judy Ryals said. "Our goal with this campaign is to celebrate those unique activities, venues, products and people that keep visitors coming to the Rocket City year after year as well as help us maintain an extraordinary quality of life for our residents."
Prizes up for grabs include stays at The Westin Huntsville, the Embassy Suites Hotel & Spa, SpringHill Suites Huntsville Downtown and the Holiday Inn Research Park, as well as passes to the U.S. Space & Rocket Center, Sci-Quest Hands-on Science Center, the Huntsville Museum of Art, Burritt on the Mountain, Huntsville Ghost Walk, a Fantasy Children's Playhouse show and the Weeden House Museum. Gift certificates to Grille 29, Tazikis Mediterranean Café, Papou's Greek Cuisine and a VIP Pass to the Von Braun Center's Taste of Home Cooking School and more will also be given away.
To participate in the #IHeartHSV campaign, follow or like the Huntsville/Madison County CVB on Facebook (Facebook.com/huntsvilleCVB), Twitter (@Go2HuntsvilleAL) and Instagram (VisitHuntsvilleAL) and be sure to use the hashtag #IHeartHSV when posting the reasons you 'heart' Huntsville/Madison County.
"We're excited for not only local residents to provide their input, but also our followers and friends across the country and world," Ryals said. "It's about celebrating our love for Huntsville---whether Huntsville is your home or we were lucky enough to have hosted you for a visit sometime along the way."
To learn more about this campaign, visit http://www.huntsville.org/IHeartHSV or contact Jessica Carlton, Huntsville/Madison County CVB Marketing Manager at 256.551.2294 or jessica(at)huntsville(dot)org.
About Huntsville/Madison County CVB
The Huntsville/Madison County Convention & Visitors Bureau (CVB) is a non-profit 501(c)(6) organization which was developed in 1970 to create economic growth for Huntsville/Madison County by marketing the community as a top-of-mind convention and visitor destination. As the official city/county agency which promotes the area as a tourist destination and convention site, the CVB works with an array of hospitality industry partners to market our destination to visitors of all types.
###