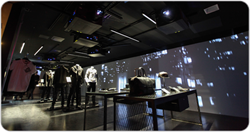 Las Vegas (PRWEB) February 19, 2014
Christie®, a global visual technology company, returns to Digital Signage Expo (DSE) in Las Vegas to showcase its leading-edge digital signage and collaborative presentation systems that reflect the company's wide range of visual display and communication options for the retail, architectural, digital out of home, and corporate environments. All Christie systems are backed by decades of industry experience and the options for professional services through Christie's Managed Services, who design, build, deploy and support digital signage solutions that capture attention, communicate information and deliver experiences.
Among the products at Christie booth #527 will be Christie® MicroTiles® with the Christie Interactivity Kit; a technology preview of the new Christie QuadHD84P flat panel designed for both landscape and portrait modes; Christie's latest 46-inch ultra-narrow bezel LCD multipurpose flat panel and the innovative Christie Brio multisite meeting solution. Highlights include:
Preview of new 84-inch Christie QuadHD84P Flat Panel Designed to Support Portrait and Landscape Applications
Building upon the advantages and features of the existing Christie QuadHD84 with stunning 60Hz Quad HD resolution (3840x 2160), the new high performance 84-inch Christie QuadHD84P expands the product offering with increased brightness of 500 nits and flexibility to display the flat panel in portrait and landscape modes. It is an easy-to-use, professional display, with low cost of operation, that can deliver instant "sizzle" to theater lobbies, retail, corporate and public spaces with dynamic promotional, signage and branding applications in both portrait and landscape modes of operation.
Christie MicroTiles Video Wall With Christie Interactivity Kit
A 6 unit by 4 unit Christie MicroTiles display will showcase the Christie Interactivity Kit, a modular and scalable multi-touch solution that can accommodate practically any rectangular digital display. It plugs into a computer USB port without the need for drivers, with high touch accuracy and fast response times, unlocking the full creative potential of any tiled video wall.
Christie Brio Presentation System and Collaboration Solution
Christie® Brio makes it effortless to meet, share information and work together across multiple locations while automatically coordinating up to five simultaneous video and audio presentations on meeting room displays. Presentations and high quality media can easily be shared between sites anywhere in the world via IP networks, allowing all participants to see the same content for efficient and effective teamwork.
Also visit Premier Mounts, booth #710, for more Christie LCD flat panel solutions.
About Christie®
Christie Digital Systems USA, Inc. is a global visual technologies company and is a wholly-owned subsidiary of Ushio, Inc., Japan. Consistently setting the standards by being the first to market some of the world's most advanced projectors and complete system displays, Christie is recognized as one of the most innovative visual technology companies in the world. From retail displays to Hollywood, mission critical command centers to classrooms and training simulators, Christie display solutions and projectors capture the attention of audiences around the world with dynamic and stunning images.
-30-
Media contacts:
Carmen Robert, Christie
Cell : 519-572-5824
carmen.robert(at)christiedigital(dot)com
Mario Almonte
Herman & Almonte PR
212-616-1190, ext. 267
malmonte(at)herman-almontepr(dot)com
Follow Christie at:
Facebook.com/christiedigital
Twitter.com/christiedigital
#christiedigital
#dse2014
"Christie" is a trademark of Christie Digital Systems USA, Inc., registered in the United States of America and certain other countries.
Christie® MicroTiles® is a registered trademark of Christie Digital Systems USA, Inc.