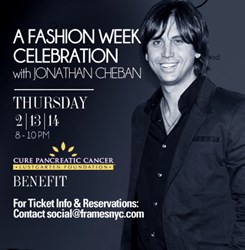 Jonathan Cheban, the PR Guru and Reality Star BFF to Kim Kardashian will be Hosting a FASHION WEEK Party at Frames Bowling Lounge on Thurs, FEB 13 from 8-10pm.
New York, NY (PRWEB) February 11, 2014
Jonathan Cheban, who has appeared on reality series Keeping up with the Kardashians, will be Hosting a FASHION WEEK BLOWOUT Party at Frames Bowling Lounge on Thursday, February 13, from 8-10pm.
Tickets are available to the general public for $50 and benefit the Lustgarten Cancer Foundation.
Event includes passed appetizers and an hour of open bar from 8-9pm.
Frames Bowling Lounge is located at 550 9th Ave, corner W40th.
For Reservations and Tables: please email social(at)framesnyc(dot)com.
Media and interview requests: please contact Frayda(at)framesnyc(dot)com.
ABOUT JONATHAN CHEBAN
Jonathan Cheban is the founder and former CEO of CommandPR, a full-service public relations firm with offices in both New York City and Los Angeles. He rose to prominence through his high-profile friendship with socialite Kim Kardashian and appearances on her reality shows, as well as starring in his own reality series, The Spin Crowd, which aired for 8 episodes on E! Network.
ABOUT FRAMES BOWLING LOUNGE
For five years and counting, Frames Bowling Lounge has brought modern sophistication to the age-old, carefree sport of bowling. Located on the corner of 9th Ave and 40th Street, the 35,000 square foot entertainment complex boasts 28 bowling lanes, a private VIP room, 2 bars featuring an extensive liquor selection, a full-service billiards lounge and a plush dance lounge.