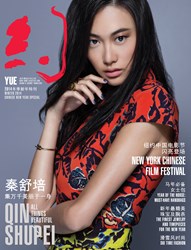 (PRWEB) February 11, 2014
Chiu‑Ti Jansen, Publisher of YUE Magazine hosted a cocktail reception on Monday, February 10th to celebrate the launch of YUE's winter issue at world‑renowned Michelin star restaurant, Hakkasan New York. The event honored international supermodel and cover of YUE's winter issue, Qin Shupei.
"YUE was delighted to partner with Royal Salute in honoring Shupei, who graces the cover of our Winter 2014 issue. Shupei's globe‐trotting career has helped redefine the paradigm of beauty on international runways and inspired many Chinese and non‑Chinese who pursue fashion as a vocation of passion and self‑confidence. Like Shupei, Royal Salute is a perfect embodiment of sophisticated taste and empowerment," Chiu-Ti Jansen remarks.
The intimate affair brought together 50 notable Chinese and New Yorkers for an evening of Royal Salute Scotch Whisky and Chinese-­themed appetizers by Hakkasan New York. Guests included: Joseph Altuzarra, Geoffrey Bradfield, Liliana Cavendish, Lucia Hwong Gordon, Leigh Gow, Yaz & Valentine Hernandez, Chien‑Chung Pei and Patricia Shiah.
Royal Salute celebrated its 60th anniversary in 2013, having been created to mark the coronation of Her Majesty Queen Elizabeth II in 1953. Then, as now, Royal Salute has honored the world's most powerful and successful individuals through the acknowledgement of nobility and heritage. It is the favored Scotch Whisky in China, where the Chinese elite select Royal Salute as their "choice drink among friends." Jill Heisler, Director of Prestige Marketing, at Pernod Ricard USA (parent company to Royal Salute, co‑leader in the spirits and wines sector worldwide, number one in the Premium segment) commented. "Royal Salute is proud to support YUE Magazine's winter issue, as its audience of affluent Chinese residents and travelers are the same aficionados of our luxury Scotch Whisky. YUE embodies the essence of Royal Salute and the values the brand stands for."
NOTES TO EDITORS:
YUE Magazine is the first bilingual lifestyle magazine focusing on the unique luxury experiences in the US for affluent Chinese consumers. YUE publishes four issues a year and covers fashion, jewelry, watches, art, shopping, culture, fine dining, real estate and education, offering China's sophisticated readers a multi‑faceted view and a better understanding of America's elite lifestyle. YUE Magazine is a joint venture between Observer Media (publisher of The New York Observer), and CHINA HAPPENINGS, a multimedia platform focusing on the lifestyle industries in contemporary China.
CHINA HAPPENINGS
CHINA HAPPENINGS (http://www.chinahappenings.com) is a multimedia platform founded by Chiu-­Ti Jansen that focuses on the lifestyle and cultural industries in contemporary China. Ms. Jansen is a TV presenter, a lifestyle magazine publisher and a writer based in New York City with a pulse on China. She hosts TV and video presentations on fashion and style for Phoenix TV, Phoenix Fashion and SINA Fashion, and writes a blog titled CHINESE ELEMENTS for international auction house Sotheby's (http://www.sothebys.com) and a fashion and style column titled NEW YORK IN STYLE for the Financial Times' Chinese edition (http://www.ftchinese.com). Prior to founding CHINA HAPPENINGS, Ms. Jansen was a New York‑based corporate partner of an international law
firm. A native speaker and write of Mandarin Chinese, Ms. Jansen holds advanced degrees from Yale University and Columbia Law School and serves as an Honorary Ambassador of the Lang Lang International Music Foundation and a director of the Board of the Couture Council of Museum at the Fashion Institute of Technology (FIT).
Observer Media
Observer Media is a diversified media company that offers readers cutting‑edge reporting available on a variety of platforms, written by an editorial staff known for its distinctive and discerning style and wit. Observer Media is emblematic of journalism today – a bridge spanning traditional and digital media, including The New York Observer, Commercial Observer, luxury magazines and Observer national web properties (http://www.observer.com, http://www.politicker.com, http://www.galleristny.com, http://www.betabeat.com).
Royal Salute is the world's leading luxury Scotch Whisky, and begins where others end since only whiskies matured for at least 21 years are ever selected for Royal Salute blends. In 2012, Royal Salute became the first ever brand to be officially associated with the Royal Gun Salutes at the Tower of London, as part of a long-­‐‑term partnership with the independent charity Historic Royal Palaces. The luxury Scotch Whisky has seen particular success in Central and South America, India, Korea, Japan, and the U,S, with approximately 200,000 9 liter cases sold globally in the 12 months to June 2013.
Chivas Brothers
Chivas Brothers is the Scotch whisky and premium gin business of Pernod Ricard – the world's co-­‐‑leader in wine and spirits. Chivas Brothers is the global leader in luxury Scotch whisky and premium gin. Its portfolio includes Chivas Regal, Ballantine's, Beefeater Gin, The Glenlivet, Royal Salute, Aberlour, Plymouth Gin, Longmorn, Scapa, 100 Pipers, Clan Campbell, Something Special and Passport. In July 2010 Chivas Brothers launched The Age Matters campaign to help consumers understand the importance of Scotch whisky age statements.
CONTACT: Observer Media / YUE Magazine
Zarah Burstein, zburstein(at)observer(dot)com / Phone: 212-­407‑9394