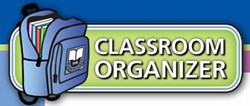 Evergreen, Colorado (PRWEB) February 12, 2014
A well organized library or book room makes it easy for students and faculty to find the resources they need. To help bring structure and order to school libraries and book rooms across the country, Booksource has created Classroom Organizer, an all-new web based program designed to organize classroom library and book room systems. The program offers a number of organizational features that can help libraries run more effectively and efficiently.
The following are some of the main functions offered by the Classroom Organizer program:

organizes a library's existing book titles
sorts books into fiction or non-fiction categories
suggests new titles to compliment existing inventory
imports new titles from Booksource orders
imports student rosters
enables students to check out or return books
evaluates student activity and more.
For greater convenience, the program allows for multiple usage, meaning more than one person can log into the same account at one time. By enabling more people to log on simultaneously, it makes it easier to build a class room library. The program also requires the use of double passwords - one password for the teacher and another for the student. This feature was specifically added to protect teacher privacy.
In keeping up with the digital age, the Classroom Organizer provides users with a free app for iPhone, i Pad and Android phones and tablets, giving teachers greater freedom to use the program at their convenience. With the app, a teacher can scan book title ISBN's with their phone or tablet anywhere, anytime to add to their library. The app also enables a teacher or administrator to view the contents of their library and manage library functions remotely.
The original version of Classroom Organizer is available free of charge to schools and educators in Colorado and throughout the nation.
According to user testimonials, the Classroom Organizer has proven to be a valuable tool in the hands of students and teachers alike. The following are but a few comments received by educators attesting to the effectiveness of the program.
"Classroom Organizer has completely revolutionized the way my classroom library runs!" - Meredith, TX.
"With Classroom Organizer, book checkout is faster, more reliable and Eco-friendly." - Jason, OK
"We are able to sort by genre, author or title with ease!" - Connie, HI
"Classroom Organizer has made my library more professional…" - Allison, TX
Classroom Organizer is the brainchild of the well-known book distributor, Booksource. With approximately 40 years in the industry, the family-owned corporation has made its mark in the field of education by helping to build the literary resources of thousands of school libraries around the country. With the creation of Classroom Organizer, Booksource continues its legacy of providing schools with state of the art resources to meet their educational needs.