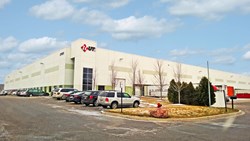 Having both teams in one location allows UTi to share best practices and expertise. - UTi CEO Eric Kirchner
Long Beach, California (PRWEB) February 11, 2014
UTi Worldwide Inc. (Nasdaq: UTIW), a global supply chain services and solutions company, recently opened a new logistics facility in Romulus, Michigan under a "shared asset" model that offers clients synergistic benefits from warehousing and freight forwarding disciplines.
The 228,000 square foot facility is a new campus model for UTi, according to Eric Kirchner, UTi's chief executive office, combining warehousing activities for contract logistics clients and space for air, ocean and ground freight forwarding. Prior to opening this facility, UTi had two separate buildings 11 miles apart.
"Having both teams in one location allows UTi to share best practices and expertise," said Kirchner. UTi also benefits from cost reductions as a result of sharing equipment and utilities, which allows us to apply those savings to other improvements."
Rob Chanona, UTi's vice president, contract logistics operations for the Americas, added, "While other companies are leaving the Detroit area, UTi is making a substantial investment in support of our clients in the automotive and consumer electronics industries. "We believe that Detroit plays a pivotal role in the automotive supply chain for the NAFTA region, connecting the dots among the Tier 1 suppliers in Ontario, Canada, the Midwest, and Mexico."
About UTi Worldwide
UTi Worldwide Inc. (http://www.go2uti.com) is an international, non-asset-based supply chain services and solutions company providing air and ocean freight forwarding, contract logistics, customs brokerage, distribution, inbound logistics, truckload brokerage, and other supply chain management services. The company serves a large and diverse base of global and local companies, including clients operating in industries with unique supply chain requirements such as the retail, apparel, chemical, automotive, pharmaceutical, and technology industries. The Company seeks to use its global network, proprietary information technology systems, and relationships with transportation providers, and expertise in outsourced logistics services to deliver competitive advantage to each of its clients' supply chains.