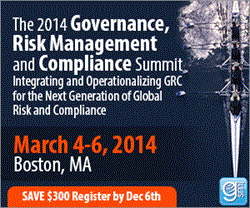 "I'm excited to share new developments taking place in the use of technology to enhance audit management. Using a mobile device to capture and record audit data will not only be appealing to auditors, it will also significantly enhance audit efficiency."
Boston, MA (PRWEB) February 11, 2014
GSMI is excited to announce Bruce Carpenter, VP Sales & Services, Audit for SAP will be speaking at the GRC Summit Boston this March 4-6, 2014.
Carpenter will be speaking on the topic of "Leveraging Mobility: New Tools to Enhance the Audit Process," on March 5th.
Carpenter recently commented, "I'm excited to share new developments taking place in the use of technology to enhance audit management. Using a mobile device to capture and record audit data will not only be appealing to auditors, it will also significantly enhance audit efficiency."
Carpenter commenced his career in New Zealand as an auditor for KPMG. After overseas experience in London, he moved to San Francisco where he was a Senior Manager in KPMG's Forensic Accounting practice.
In 2001 he moved to Sybase Inc. to develop an Internal Audit Department, where he was responsible for Internal Audit, Enterprise Risk Management, as well as serving as the company Compliance Officer. In 2012 Sybase won OCEG's Principled Performance Award, for excellence in the implementation of ERM company-wide.
Subsequent to Sybase's acquisition by SAP, Bruce has moved to the SAP Corporate Audit Department where he is VP Global Sales and Services Audit. In this role he works with line management to design and develop audits that best align with SAP's ongoing sales strategy. In the context of Corporate Audit's transformation, his aim is to position Corporate Audit as a trusted advisor to the business.
As GRC evolves into GRC 3.0, integration and operationalization across business strategy is key. This year's Summit will highlight best practices and lessons learned from leading companies in risk and compliance. The program has 4 unique session tracks including: Audit Management, Risk Management, Compliance and IT/Data Security. The Summit gathers leaders in the industry including OCEG fellows Brian Barnier and Michael Rasmussen to share thoughts on operational risk management, risk appetite and the future of GRC.
For more information please visit http://www.thegrcsummit.com. Group discounts are available.
Twitter: @gsmionline
Facebook: Facebook.com/gsmiweb
Event Hashtag: #GRCSummit
Join the conversation with our LinkedIn Group:
http://www.linkedin.com/groups?gid=4242188&trk=myg_ugrp_ovr
GSMI is a leader in the industry of executive education, creating conferences, summits, workshops and training sessions that combine rich learning environments with the opportunity to network with today's most relevant thought leaders, speakers and practitioners. GSMI's annual events have reached 80% of the Fortune 500 companies, in over 30 countries, covering topics that today's leaders find most challenging and inspiring. More information about Global Strategic Management Institute's upcoming educational events for professionals, visit: http://www.gsmiweb.com.
###
MEDIA CONTACT:
Tom Dibble
GSMI
888.409.4418 Ext: 1860
Tom.Dibble(at)gsmiweb(dot)com
#GRCSummit