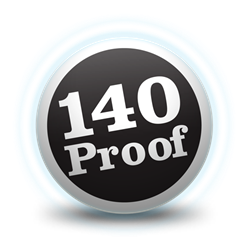 San Francisco, CA (PRWEB) February 11, 2014
Social Interest Technology company 140 Proof today announced that its Blended Interest Graph technology has indexed the profiles of more than 600 million social users, making it the largest cross-platform index of interest connections in the world. 140 Proof helps Fortune 100 brands – including seven of the top ten brands on Brand Directory's 2013 ranking of Top Global Brands – connect people to the things they love by analyzing the billions of social data points created every day.
"The social analytics market has continued its impressive growth with Apple's recent acquisition of Topsy and DataSift's Series C financing," said Jon Elvekrog, CEO of 140 Proof. "Brands understand the value of using social data to monitor their reputations, measure earned media, and generally answer the 'how are we doing in social' question. Our technology makes social data particularly actionable by understanding users' interests on an individual level and serving an ad that is particularly relevant to them."
140 Proof's patented Blended Interest Graph technology maps the interests of more than 600 million people across numerous social networks -- including Twitter, Foursquare, and Tumblr -- to enable fine-grain targeting at scale for leading brand advertisers. The technology tracks who people follow, what they like and share, where they check in, what types of things they pin, and more. This allows 140 Proof to build detailed personas used to target large, desirable audiences with ads, more than half of which appear on mobile and tablet devices. Recently, 140 Proof has run campaigns designed to speak to personas including "Sustainability Moms," "Car Customizers," "College Football Fans," "Gear Heads," and "Summer Festival Fans."
"No single social platform has a monopoly on interests. The most robust way to create audience personas in social is to take a blended approach to gain a holistic view across social channels. The interest signal from social is as strong as the intent signal from search and more versatile by far," said John Manoogian III, CTO of 140 Proof.
In addition to profiling 600 million users, the company has compiled more than 20 billion "interest connections," which are links between people and the things they love. 140 Proof is developing additional tools to leverage this data beyond serving interest-targeted ads. Upcoming offerings will give marketers a richer understanding of their audience's complex and interwoven psychographics.
About 140 Proof
140 Proof created Blended Interest Graph technology to combine public data from social platforms and enable large brand advertisers to target native social ads to groups of people based on the interests they express in tweets, follows, pins, likes, tumbls, check-ins and the rest of their social activity. Founded in 2010, 140 Proof draws from over 3 billion interest signals every day and has analyzed over 560 million social network users. With reach to 62 million monthly uniques across our platform of apps and sites, 140 Proof has run campaigns for some of the largest brand advertisers, across verticals such as CPG, consumer electronics, technology, entertainment, finance, and more. Offices are located in New York, San Francisco, Chicago, Detroit, Boston, and Los Angeles. More at http://www.140proof.com