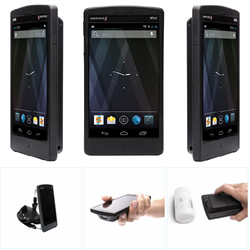 The New Work Smart Solution
(PRWEB) February 11, 2014
The Spectralink Pivot revolutionizes hospital communication by combining the voice-quality of a desktop phone and the intuitive features of a smart phone into a durable purpose built device. As Spectralink's first expert level partner, Spectracom Group is excited to see the new work smart solution increase nurse staff productivity and patient care to many of their national healthcare customers. Today, Spectacom Group will announce why nurses and doctors desire the new Spectralink Pivot.
"The Spectralink 87-Series is one of the products that many hospitals have been looking for and is in fact, a game changer for healthcare." -- John Mattis, President of Spectracom Group
1. Instantly Familiar
First and foremost, it is instantly familiar because of the smart phone-like features that come right out of the box. It includes an intuitive user interface and is simple to view, navigate and grip. The familiarity of the industry standard Android platform makes it very easy for nursing staff to grab and go with minimal training.
2. Mobile Application Platform
Hospital IT can now easily integrate the phone with android or XML solutions to optimize the workflow process. Nurses can access the web and all needed information right on the work smart Spectralink Pivot. Whether organizations require a simple secured texting solution or a complex integration to a patient monitoring system, the flexibility of the Spectralink Pivot makes it happen.
3. Purpose built
With unrivaled durability, longevity and support, hospitals are able to be sure that their new work smart phones withstand the busy and hectic environments of healthcare. The easily interchangeable batteries are ideal for the shift-based environments within hospitals and saves valuable time for nurses and doctors. Lastly, the 1D/2D barcode scanner makes it easy to identify patients and medications.
4. Dependable
Spectralink phones have been known for durability and longevity and are designed to meet and exceed the drop/shock ratings and ingress protection standards.
5. Manageable and Secure
Spectralink understands the importance of level security and privacy for enterprise devices and ensures this by including over-the-air management and updating capabilities. The Pivot is also designed to be easy to clean to improve patient safety.
The Spectralink 87-Series includes the Spectralink 8741 which come without a barcode scanner and the Spectralink 8753 which includes a 1D/2D barcode reader. Each model is available in two colors, healthcare blue and midnight black. Currently, Spectracom Group offers design consultation services to help customers implement a voice certified Wi-Fi solution that can improve healthcare. With multiple national healthcare clients, Spectracom Group ensures constant communication to make hospitals thrive in patient care. Please give us a call at 404-704-0444 or e-mail us at services(at)spectracomgroup(dot)com for more information.