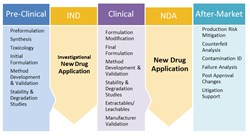 (PRWEB) February 11, 2014
While there are many resources that exist to outline the drug development process from both an FDA requirement standpoint and a clinical trial perspective, this article outlines these processes through a new light. "Utilizing Chemical Analysis throughout the Drug Development Process" is a great online resource which describes the drug development process in terms of the chemical analyses utilized to reach each development milestone, such as the Investigational New Drug Application (IND) and New Drug Application (NDA) submissions.
This transition away from the typical perspective fulfills the need for a pharmaceutical manufacturer that is looking for a roadmap on how to navigate from the initial discovery of an Active Pharmaceutical Ingredient (API) to getting the products final formulation approved by the FDA.
Furthermore it details how each submission stage influences the final product and includes links to additional resources as well as the descriptions of the analytical services utilized. The article also includes a segment dedicated to services commonly needed post market approval.
In conjunction with this type of online resources and informative white papers, Avomeen offers free consultations with pharmaceutical specialists and customized services to meet each client's particular needs. Their skilled chemists help to ensure that pharmaceutical companies are able to receive the thorough analysis necessary to fulfill the FDA requirements. Their analytical chemists are also experts at solving the complex non-routine problems that can arise during the drug development process.
Access the white paper:
http://www.avomeen.com/news/articles/chemical-analysis-in-drug-development-process
Email scientist(at)avomeen(dot)com or call Avomeen at 800.930.5450 for a free consultation with a Ph.D. Pharmaceutical Chemist.