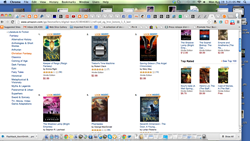 Books can empower and uplift a young person to lead moral lives and encourage them to explore a higher calling, rather than focus on the self.
San Francisco, USA (PRWEB) February 12, 2014
Amidst a slew of traditionally published authors some of the bestselling fantasy fiction for young readers in 2013 included books from self-publishing authors like Emma Right's teen fantasy, Keeper of Reign, Book 1. An up and coming middle grade and young adult book author, Ms.Right's Keeper of Reign was one of those whose book climbed to the top spot on Amazon for young adult fantasy on Amazon in 2013. Keeper of Reign, an epic high fantasy for readers ages 10-17, takes young readers on an adventure in the magical Kingdom of Reign. The story is about a race, the Elfies, cursed and reduced to an inch size and their struggle to overcome their enemies about them. Main protagonist, Jules Blaze, age sixteen, tries to save his family and his people from annihilation as he embarks on a search to find the truth.
Pacific Book Reviews stated, of this Kindle bestseller and Award Winner, "Keeper of Reign is a book in the rich tradition of fantasy novels like Lord of the Rings. The novel has cliffhangers at the end of each chapter, which makes it impossible to stop reading. Young adult readers who are fans of Lord of the Rings should make this book an addition to their reading lists. Fans of the spiritual and allegorical elements of C.S. Lewis novels will also enjoy this book."
Awarded with the title as one of the top 50 authors you should be reading in the USA, Emma Right is excited to announce that the sequel to Keeper of Reign will be out soon. Children who have enjoyed Rick Riordan's Percy Jackson's series and JRR Tolkein's Hobbit and CS Lewis's Narnia Chronicles would enjoy the action-packed adventure found in the Keeper of Reign series.
As someone who has dedicated her last seventeen years to teaching youngsters, including her own five homeschooled children, Emma Right, a Christian, believes that the appropriate books can empower and uplift a young person to lead moral lives and encourage them to explore a higher calling, rather than focus on the self. Ms. Right, stated, "Children need to have role models who may have flaws but still take the high moral road of ding what is right."
Get more information on the best young adult book classical list for 2013.
In the hopes of promoting a list of books with healthier themes and containing less profanity, Emma Right has come up with a list of the top 100 books middle grade and young adults could enjoy, with both high entertaining and moral values that hopefully will steer teens and young readers to evaluate social and life issues.
Although it is true that censorship is not something to strive for, it is important that children who are not ready should not be hooked into the subtle suggestions that some fiction tries to promote. The mind of a young reader is a fertile ground for both good and bad thinking to sprout roots in, and fiction has the power to drive an idea where non-fiction cannot tread.
Providing young readers with the right books is like giving them the suitable tools needed for success in adult living. This will help children grow into the adults we hope our society will be populated with in the future. "I hope the Keeper of Reign"series will not only take teens on an adventure but subtly promote wholesome values," stated Ms. Right.
About the author, Emma Right
Emma Right is a happy wife and Christian homeschool mother of five living in the Pacific West Coast of the USA. Besides running a busy home, and looking after her five pets, she also writes stories for children and is active in her homeschool community.
Right worked as a copywriter for two major advertising agencies and won several awards, including the prestigious Clio for her ads, before she settled down to have children.
Emma Right's 'Keeper of Reign' and 'Dead Dreams' are both available at Amazon.com and paperback wholesale interests may go to New Shelves Distribution, NY, USA, c/o Amy Collins Email: services(at)newshelves(dot)com
Phone: 518-261-1300
122 Remsen Street #101,
Cohoes, NY 12047
Contact Information:
Emma Right
Leave your comments on Emmaright.com
or at emmarightt(at)gmail(dot)com
San Francisco , California, USA
Tel:650-4861231