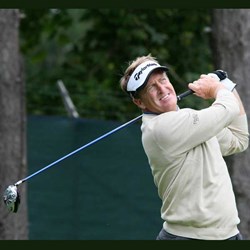 Washington, D.C. (PRWEB) February 10, 2014
Fred Funk, sponsored by Noxicare™ natural pain reliever, shot a three under par 69 on the third and final round of the Allianz Championship on Sunday, according to the PGA Champions Tour. The strong showing earned him a fifteenth place finish and a $24,826.67 purse in the annual senior event.
After eight career PGA tournament wins, Funk hopes to stay on the tour for at least another decade, despite bouts of pain in his wrists and shoulders. When that happens, Funk tees up Noxicare™. It's a natural pain fighter containing seven, anti-inflammatory ingredients.
"Over the years, I've used a number of treatments to reduce the hurt that inevitably comes with high level competition. Since I started using Noxicare™, I don't need prescription painkillers that can be dangerous and addicting," says Funk.
The Champions Tour competition was staged at The Old Course at Broken Sound in Boa Raton, Florida. It attracted some of the game's top players older than age 50 including Tom Kite, Hale Irwin, Colin Montgomerie, Mark Calcavecchia and Michael Allen. The 55-year old Allen wound up on top of the leader board with an 18 under par showing that netted a $240,000 prize in the $1.6-million tournament.
"It was exciting to play against some of the greatest names in golf who are still on top of their game even though they're beyond age 50," said Funk, who at age 57 has been playing competitively for more than thirty years.
"We salute Fred for his continuing achievement in one of the world's most demanding sports, and we're very proud that Noxicare™ helps him play without pain," says Reza Ghorbani, MD, ABIPP, FIPP.
Doctor Ghorbani created Noxicare™ and is the president and medical director of the Advanced Pain Medicine Institute of Greater Washington, DC. He is also the founder and CEO of Truceuticals LLC, which markets Noxicare™. In addition, he is the author of "Secrets to a Pain Free Life."