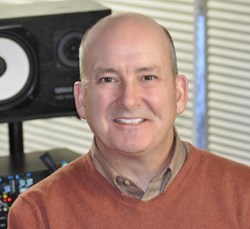 "...ideal for multiple locations because all the updates and scheduling can be done in the cloud in real-time all at once. We have ushered the message and music on hold industry into the 21st century." - Tim Brown
Kalamazoo, Michigan (PRWEB) February 11, 2014
Easy On Hold @easyonhold has created the message and music on hold industry's first customizable streaming architecture. According to founder and technical director Tim Brown, the company's development is a first-in-class platform that solves "major headaches" inherent in the traditional music and message on hold industry.
Those headaches, says Brown, include glitchy, cumbersome internet-load units and software; poor solutions for companies with multiple locations; USB players that require a human to load a file; lackluster 4- and 6-minute loops of music and content that repeat over and over; hosted VOIP platforms that start the message from the beginning every time a call is placed on hold; and a lack of access for end users to manage their own playback schedules for each on hold spot and make changes in real time from anywhere.
"We can now provide our customers with their own stream of customized 30- to 60-second spots each mixed with their own music track. When assembled into our streaming architecture, the spots play back randomly for a unique listening experience every time, like a Pandora channel, as opposed to a traditional, ordinary 4 minute loop that repeats exactly the same way every time," Brown explains. "Or, our clients can choose to have the spots play back on a specific schedule, right down to the day, date and time each spot plays, and can even choose one spot to play more often than others for impact. This is ideal for a medical office announcing flu shots for a limited time, a retailer with an important sale, or a city announcing power outages in a certain area.
"Our solution is hands-free, meaning our clients don't have to download files onto USB drives or create CDs or cassettes; we provide a streaming on hold play that plays the user's own URL stream. It's ideal for multiple locations because all the updates and scheduling can be done in the cloud in real-time all at once," says Brown. "We have ushered the message and music on hold industry into the 21st century."
Easy On Hold @easyonhold also includes 'good morning' and 'good afternoon' greetings that play back intermittently throughout the day and night according to end users' time zones "for a more personalized experience for callers," he added.
In the case of companies whose hosted VOIP platforms happen to be Asterisk (http://www.asterisk.org/) —also known as Elastix (http://www.elastix.org/index.php/en/) and Trixbox (http://trixbox.com/) —and OnSIP (http://www.onsip.com/), Easy On Hold's streaming solutions can now provide a way for those customers to load their own custom stream of custom messages and music without the aid of a technician.
The SIP-based customizable stream from Easy On Hold has earned it a coveted spot as an OnSIP solutions partner, making Easy On Hold's solution available to the VOIP leader's 20,000 customers who until now could only load up generic music tracks for their callers.
According to OnSIP Cofounder and President Robert Wolpov, "We were approached by Easy On Hold with the idea to create a custom message on hold stream compatible with the OnSIP platform. Previously, our customers could choose from a finite selection of music. Now, they can use hold time to communicate important company information, promotions and special events, mixed with music. It's a high-end on-hold experience; no other company is providing a streaming service like Easy On Hold. It's an important technological achievement, and we applaud them for cracking the code, so to speak."
Matthew Chisenhall, founder of Mattchis Technologies and a VOIP expert who recommends Asterisk to his customers, said, "I love the quality of sound that the Easy On Hold streams provide."
Easy On Hold, http://www.easyonhold.com, @easyonhold.com, created in 1997, provides professional telephone recordings, music and on hold message productions, auto attendant, IVR, voicemail greetings, and web audio to companies around the world.