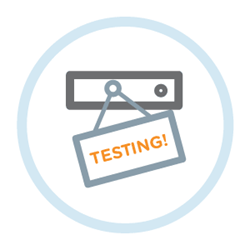 With donors around the world, we must make certain that downtime is minimal. With Beyond Nines, we remain in control.
Lynnwood, WA (PRWEB) February 12, 2014
Every software patch and upgrade for Blackbaud® software comes with the potential for "gotchas." Especially for larger nonprofits and foundations with large user bases and extensive third-party integrations, a test or "sandbox" environment is key to avoiding downtime of live databases or NetCommunity™ websites.
Beyond Nines understands organizations can't take the risk of testing on live data. That's why we offer all hosting clients a temporary testing sandbox. Unlike Blackbaud® OnDemand™, Beyond Nines does not charge outsized fees for access to a sandbox. In fact, the temporary sandbox — available for 30 days at a time — is free!
"With donors around the world, we must make certain that downtime is minimal. With Beyond Nines, we remain in control," said Greg Rousos, President and CEO of Presbyterian Foundation, an organization that hosts its Blackbaud® software suite and other third-party products with Beyond Nines.
For organizations that have longer-term testing needs — like the Presbyterian Foundation — or that wish to use a sandbox environment for ongoing training, Beyond Nines provides the option of an affordably priced persistent sandbox. Persistent sandbox fees are set according to the resources needed to deploy and maintain the testing environment.
Read more about the Presbyterian Foundation hosting solution.
ABOUT BEYOND NINES HOSTING
Beyond Nines specializes in hosting Blackbaud® software. We are the only third-party hosting provider with proven expertise hosting Blackbaud® software and Blackbaud®-integrated products. Beyond Nines offers limitless possibilities for customization – most at no additional cost. Fusion Labs, Omatic Software, Dropbox, PowerPlan, SAP Crystal Reports and Zeidman Development are just a few examples of third-party companies with purpose-built applications to enhance and extend the capabilities of your Blackbaud® software that we fully support in your hosting environment. A few of the highlights of our hosting offering:

Your own private virtual servers on our VSphere Enterprise Plus private cloud
Ultra-fast 10-gigabit network fabric and flash-enhanced Tintri SAN storage
Internap MIRO route optimization across more than 10 independent backbone providers
PCI DSS compliant verified by Qualys
100% uptime SLA verified by independent third-party monitoring service
Secondary data center in Seattle, Washington with 24-hour RPO and 24-hour RTO
Free temporary sandboxes for testing with the option for a permanent sandbox
Responsive and personal customer service with Blackbaud® software expertise
Beyond Nines is based in Seattle, Wash. and provides nonprofits with a full suite of professional services including consulting, web design and hosting of The Raiser's Edge®, The Financial Edge®, and NetCommunity™. Beyond Nines serves a wide range of clients using Blackbaud® products, including arts and cultural organizations, educational institutions, religious communities and membership-driven nonprofits.
To learn more about Beyond Nines hosting for Blackbaud® software, visit http://www.beyondnines.com/hosting/.
Disclaimer: Beyond Nines is in no way affiliated with, sponsored, or endorsed by Blackbaud, Inc. Blackbaud, Inc. does not provide training materials or any form of certification to outside consultants. Neither the content of this website nor the content of the consulting and/or training services offered by Beyond Nines have been provided or otherwise approved by Blackbaud, Inc. and, therefore, Blackbaud, Inc. is not responsible for the accuracy, completeness or reliability of the services offered by Beyond Nines. Blackbaud®, The Raiser's Edge®, and The Financial Edge® are registered trademarks owned by Blackbaud, Inc.