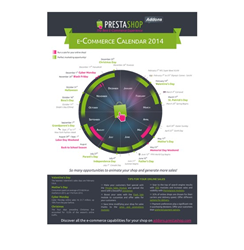 Within 48 hours of launching the calendars, over 1,700 merchants from all around the world downloaded them.
Miami, FL (PRWEB) February 11, 2014
PrestaShop, the world's leading e-commerce solution powering over 165,000 online stores worldwide, released a free downloadable E-commerce Calendar including key shopping dates that help online merchants organize their sales, promotions and marketing activities to target the right consumer at the right time.
Thanks to this e-commerce calendar, online retailers will be able to capitalize on important holidays and shopping events with strategically planned promotions such as sales, discounted shipping and complimentary giftwrapping. Retailers can also take advantage of these dates by planning timely marketing campaigns such as e-mail blasts, landing pages and blog posts to optimize traffic and increase conversion rates.
In efforts to support international merchants, PrestaShop created 6 different calendars adapted for the United States, England, Spain, Italy, Poland and France market. Merchants from all over the world can use these calendars to help them localize promotions and marketing efforts for a specific market and as a result increase sales abroad.
Within 48 hours of launching the calendars, over 1,700 merchants from all around the world downloaded them.
"This tool is one of many ways we strive to facilitate our merchants' success. By helping merchants adjust their shop and marketing efforts for local and international shopping dates, we're enabling them to increase their bottom line. The outstanding feedback we are receiving from our users confirms that our efforts are empowering merchants to extract the most from their online business," says Cécile Dubouis, Marketing Manager for PrestaShop's Official Marketplace.
The e-commerce calendar is available for download at no cost on PrestaShop's Official Marketplace. In order to download the calendar, register for a free PrestaShop Addons account and download the PDF in just a few clicks.
About PrestaShop
PrestaShop is a free and Open-source e-commerce software powering over 165,000 active online stores worldwide. Recognized as the world's most powerful, flexible and internationalized e-commerce solution, PrestaShop provides online merchants with hundreds of innovative tools to build and manage a successful online store at no cost. Used in over 163 countries and partnered with the most renowned names in the industry, PrestaShop continues to revolutionize online retail with technology that increases sales and maximizes visibility. Working hand-in-hand with its growing community of over 600,000 dedicated members, PrestaShop's entrepreneurial team is made up of e-commerce enthusiasts that are committed to the success and profitability of their online merchants. PrestaShop is the proud two time winner of Packt Publishing's Best Open-Source Business Application, winner of Europe's Bsoco Award in the 2013 CMS category and rated #1 Open-source Shopping Cart by EcommerceBytes Sellers Choice Awards 2013. For more about PrestaShop visit http://www.PrestaShop.com, follow @PrestaShop on Twitter and like Facebook.com/PrestaShop.