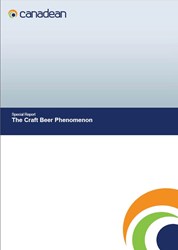 Rockville, MD (PRWEB) February 18, 2014
Craft beers are currently enjoying an unprecedented period of growth, thanks to a heady cocktail of driving factors than can be characterized as part of a broader societal trend towards heritage and authenticity, according to leading consumer specialist Canadean's new report: The Craft Beer Phenomenon. This trend can itself be considered a response to the lingering consequences of the global financial crisis, which has driven consumers towards localism, quality, and an anti-corporatist stance: all factors that have been vital in the burgeoning success of the craft beer market.
Whilst the least tangible of the craft beer market drivers, the latter notion of an anti-corporate aesthetic being closely associated with craft brewers is a very powerful force in the market. By cultivating a 'countercultural' image, craft brewers are able to capitalize on consumers' growing dissatisfaction with beer's major players, who fit the popular contemporary narrative of monolithic corporations churning out globalized, homogenized products solely in the name of profit. Whatever the accuracy of this perception, it is a powerful consumer motivator in the current socio-economic climate, and is something that craft brewers have gained significantly from.
To order this report: The Craft Beer Phenomenon
Contact: Shauna
800.298.5699
Customerservice(at)marketresearch(dot)com
Canadean Ltd.
Canadean has long held a reputation with FMCG markets for providing specialist business information by conducting detailed industry and consumer research, supported by insightful value-added analysis. Canadean covers the entire spectrum of the consumer value chain from suppliers, brand owners, distribution channels and consumer insight.
About MarketResearch.com
MarketResearch.com is the leading provider of global market intelligence products and services. With research reports from more than 720 top consulting and advisory firms, MarketResearch.com offers instant online access to the world's most extensive database of expert insights on global industries, companies, products, and trends. Moreover, MarketResearch.com's Research Specialists have in-depth knowledge of the publishers and the various types of reports in their respective industries and are ready to provide research assistance.
Follow us on Facebook http://www.facebook.com/marketresearchdotcom.
Follow us on Twitter http://www.twitter.com/marketresearch_.
The Craft Beer Phenomenon - Table of Contents:
Section 1
1. Executive Summary
2. Defining "Craft" Beer
3. History of the "Craft" beer revolution
4. Drivers behind the growth of "Craft" beer
5. Major Brewers Responses
Section 2: Market Survey
6. Market Survey
Section 3: Company Survey
7. Global Brewers and "Craft" Beer
a. A-BInBev
b. Carlsberg
c. Heineken
d. Molson Coors
e. SABMiller
8. Methodology & Product Definitions