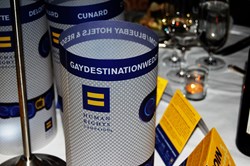 As an organization that celebrates marriage every day, our sponsorship to HRC supports our vision that all, and not just some couples, have a right to marry whom they choose
Wayland, MA (PRWEB) February 11, 2014
GayDestinationWeddings.com, part of the Destination Weddings Travel Group, attended Saturday's Human Rights Campaign (HRC) Greater New York Gala as a National Corporate Partner and live auction donor. To support the fundraising efforts of the evening, GayDestinationWeddings.com donated an all-inclusive getaway with round-trip airfare for two to Blue Diamond in Riviera Maya, Mexico.
The gala featured an address from US Attorney General Eric Holder, who announced plans for additional federal protections for same-sex couples, including full marriage benefits to: public safety personnel and police officers; couples involved in civil and criminal cases; and federal prisoners. The dinner also included speeches from Architectural Digest Editor-in-Chief Margaret Russell, celebrity interior designer Nate Berkus and Tony Award winning actress Patti LuPone.
"We are committed to the HRC's groundbreaking efforts to support full marriage equality and the rights of LGBT couples," said Richard Calvert, Destination Weddings Travel Group President and CEO. "As an organization that celebrates marriage every day, our sponsorship to HRC supports our vision that all, and not just some couples, have a right to marry whom they choose."
About Destination Weddings Travel Group
Destination Weddings Travel Group (DWTG) is comprised of four, full-service planning sites that specialize in romantic and celebratory travel across the globe. By combining the personal service and expertise of more than 200 certified specialists with resort partnerships in over 42 countries, DWTG offers customers a premier one-stop experience for planning destination weddings, honeymoons, anniversaries, birthdays and family reunions.
About GayDestinationWeddings.com
GayDestinationWeddings.com, part of the Destination Weddings Travel Group, has hand-selected hotels and resorts that ensure a total embrace of same-sex weddings and celebrations. Our G-List of properties participates in our Preferred Partner Perks Program of exclusive upgrades and amenities. Our award-winning specialists are accredited by New York's prestigious Gay Wedding Institute and will assist you and your guests with selecting the perfect destination and travel. Let us create a celebration as unique as you are. For more information, visit http://www.GayDestinationWeddings.com.