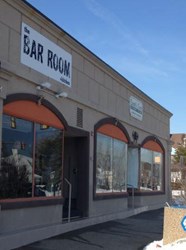 Deal, NJ (PRWEB) February 11, 2014
A friendly little bar where everybody knows your name was exactly what JJ Vacchiano envisioned when he opened The Bar Room & Kitchen in Deal, New Jersey last month. Taking the place of former bar Otto's Bar & Grill, the restaurant gives local residents a place to unwind after work with music, good food and drinks. The only thing missing from the neighboring eatery is Sam Malone serving beers while chatting with the customers but Vacchiano has already claimed that role.
Living at the Jersey Shore his whole life, Vacchiano was a bartender at the Allenhurst Beach Club before it was destroyed by Hurricane Sandy. He then decided to pursue his lifelong dream of owning his own bar. "I always wanted to do something small and intimate like this," said Vacchiano. "I wanted this area and being in Deal we can pull our customers from surrounding towns." Before opening its doors, much of the restaurant was remodeled to get the look and feel that Vacchiano had in mind including the addition of a kitchen. "I drew a picture of how I wanted everything to look like and it turned out exactly like the picture," said Vacchiano. "It is kind of like the Cheers theme. No one is afraid to come here by themselves."
Only being open for a short time, The Bar Room & Kitchen is already seeing a lot of customers from all over the area including college students. "I'm getting a lot of feedback and people from around the neighborhood are coming here," said Vacchiano. "Everyone is welcome and we have fun with it. I want everyone to be comfortable." Not only is the warm atmosphere attracting a crowd, but also the reasonable priced food and drink options are a plus. "I wanted to have happy hour prices all the time," said Vacchiano. "The only way to make that work was to have people in here all day so we extended hours. I've gotten critiqued for being too cheap in prices."
Along with their fresh and homemade menu selections, guests can also enjoy a variety of music playing on the jukebox throughout the day and watch the game from one of their several flat screen televisions. "I'm hoping to get the word out," said Vacchiano. "There's nothing like this around here." Vacchiano was inspired by many Hoboken and Manhattan bars, incorporating different parts into the restaurant. "In 2014, there's too many options and there is no go-to place," said Vacchiano. "The Bar Room & Kitchen is a good neighborhood joint and I would not have been able to do it without my family and friends."
The Bar Room & Kitchen is located on Norwood Avenue in Deal, New Jersey. Open every day from 12:00pm until 12:00am, customers can choose from an extensive menu with frequent food and drink specials. Visit their website for more information http://www.thebarroomandkitchen.com/# or call 732.686.1295.
About Bielat Santore & Company
Bielat Santore & Company is an established commercial real estate firm. The company's expertise lies chiefly within the restaurant and hospitality industry, specializing in the sale of restaurants and other food and beverage real estate businesses. Since 1978, the principals of Bielat Santore & Company, Barry Bielat and Richard Santore, have sold more restaurants and similar type properties in New Jersey than any other real estate company. Furthermore, the firm has secured in excess of $500,000,000 in financing to facilitate these transactions. Visit the company's website, http://www.123bsc.com for the latest in new listings, property searches, available land, market data, financing trends, RSS feeds, press releases and more.