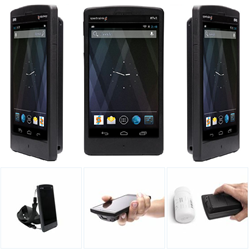 5 Reasons to invest in the Spectralink Pivot
(PRWEB) February 11, 2014
The new Spectralink Pivot is an enhanced form factor of a smart phone which is purpose built to endure the rigors of work environments. Built on the industry standard android platform, the Spectralink 87-Series establishes a new ability for hospitals, manufacturing facilities, hospitality and retail to change the way they communicate over their Wi-Fi networks. As Spectralink's first expert level partner, Spectracom Group receives one question probably more than any other: "Is it better than a smart phone?" Today, Spectracom Group will compare and contrast the reasons why the new Spectralink 87-Series is better than a smart phone in the work environment.
Top Five Reasons Why the Spectralink Pivot is better than any Smart Phone
1. Everlasting Battery
It's not really everlasting, but it might as well be because the batteries on the Spectralink Pivot can be interchanged with two simple clicks - one to take out the battery and one to insert the battery. No other major smart phones make it this easy to keep a smart phone's battery charged and ready to go. This time saving easily translates into hours saved from down time for large corporations.
2. More Durability
Every time a consumer drops a smart phone, the consumer reacts in a frantic way because the chances of breaking are too high. Spectralink phones have been known for durability and longevity and are designed to meet and exceed the drop/shock ratings and ingress protection standards.
3. Theft Proof
In most retail stores and hospitals, there's a chance of a consumer or patient taking a smart phone for personal use. The designers at Spectralink took this into consideration and made it look differentiated for the work place.
4. Manageable and Secure
Enterprise level security and privacy secures the Spectralink Pivot by allowing IT to control the phones via over-the-air management.
5. Purpose-Built
The Spectralink 87-Series is made for hospitals, manufacturing facilities and retail environments. All the features including, swappable batteries, durable structure, over-the-air management and more make the Spectralink Pivot suited better than any smart phone for the rigors of healthcare, manufacturing and business.
As Spectralink's first expert level Partner, Spectracom Group recommends the Spectralink Pivot for almost any work environment. Currently, Spectracom Group offers design consultation services to help implement a Wi-Fi solution that can improve the work environment. With multiple national clients in healthcare, manufacturing and government, Spectracom Group will help customers drive communication efficiency in the workforce. Please contact Spectracom Group for more information at 404-704-0444 or e-mail us at info(at)spectracomgroup(dot)com.