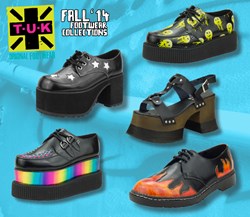 Las Vegas, NV (PRWEB) February 13, 2014
T.U.K. Footwear, already known being on the feet of rockers like Miley Cyrus, Rihanna, & Imagine Dragons, are now taking their edgy creations to the next level. Their Fall '14 shoe designs are breaking the rules of fashion with exciting new Creepers, Nosebleed Platforms, Combat Boots, and more.
Their classic Creeper shoes have been blowing up in popularity the last few years with no end in site. This season's Creepers bring in touches of leopard, rainbow, smiley-faces, and glitter. Plus new 90's inspired patterns & prints, oxfords with flames, and strappy leather festival sandals round out the funky fun collection.
These bold original shoe styles are sure to turn some heads... even in Las Vegas.
FN Platform @ MAGIC
show dates: 2/18 - 2/20
@ LVCC - South Hall
Booth # 81260
About T.U.K. Footwear
Since their start in 1991, the San Diego, CA based footwear company T.U.K. has been creating bold, original footwear for men and women. Footwear made for and inspired by bands, music fanatics, fashionistas, and individuals with eclectic tastes. With their huge range from traditional classics to modern upstarts they are constantly providing creative style with an original edge.
For more information, please visit http://www.tukshoes.com.