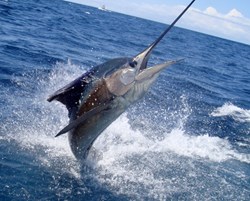 This has only happened one other time in our 15 years of operation.
Puerto Jimenez, Costa Rica (PRWEB) February 12, 2014
From its humble beginnings as a family-owned and operated boutique sport fishing lodge for elite anglers, Crocodile Bay Resort recently reached worldwide media attention, and it is all thanks to a monster 9-foot Pacific sailfish that decided to do some fishing of its own, and its catch of the day was two gentlemen from the State of Indiana.
Todd Vannatta and Richard King had the rare opportunity to show off their agility, finesse, and incredible reflexes when a 9-foot Pacific Sailfish, renowned to be the fastest fish in the ocean, literally flew into their boat and made a direct beeline for the anglers. This scene was captured on film by the captain of the boat Geovanny Leal, and in no time flat, the video went viral. It is at this point that the media frenzy began with both Good Morning America and The Huffington Post leading the charge.
Crocodile Bay Resort is pleased to report that neither the anglers nor the fish suffered any injuries even though all concerned ended up in their local drinking troughs; it is rumored that the fish has been heard bragging about the one(s) that got away. Crocodile Bay's fishing director Tood Staley mentioned that "This has only happened one other time in our fifteen years of operation."
Crocodile Bay Resort is in a transitional period after 10 years of master planning a development that will rival only the most exotic locations in the world. Located where the rainforest meets the ocean on Costa Rica's Pacific Coast, National Geographic has referred to the Osa Peninsula as "The most biologically intense place on Earth".
Crocodile Bay Resort will soon become part of The Sanctuary at Osa Peninsula and is in the process of unveiling their new partner brand which is one of the most iconic and respected international hoteliers in the world.
Crocodile Bay Resort is also proud to report that simultaneously with the monster sailfish incident, Trip Advisor ranked Crocodile Bay Resort #2 in Costa Rica for their coveted Travelers' Choice Top Hotels award and #3 for all of Central America, edging out famous brands such as Four Seasons, Marriott, Westin, The Radisson, Wyndham, and a host of luxury boutique hotels. For more information on reserving world class fishing and adventure tours visit their sport fishing website or call 1-800-733-1115.