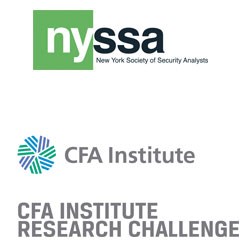 New York, NY (PRWEB) February 11, 2014
The New York Society of Security Analysts (NYSSA) announced the selection of the four finalist teams for the New York Local Final of the CFA Institute Research Challenge®. The student teams will present their research to a panel of senior finance experts on February 20, 2014 from 6:00 p.m.–9:00 p.m. at NYSSA Conference Center.
The final four teams for the New York Local Final are:

Gabelli School of Business & Graduate School of Business Administration, Fordham University
Team Members: Charmian Cooper, Neil Dhruve, Matthew Henriksson, Frank Kong, Prapunsak Wongpaitoon
School of Management, New Jersey Institute of Technology
Team Members: James Barr, Geoffrey Ching, Samdisha Kapoor, Rodolfo Marquez, Pedro Santos
Rutgers Business School—Newark and New Brunswick, Rutgers University
Team Members: Daniel Dicicco, Eric Lang, Shmuel Libby, Ankith Polavarapu, Andrew Spiro
Stillman School of Business, Seton Hall University
Team Members: Amanda Bronson, Bradley Childs, Chase Laster, Arush Pandya, Ping Zhou
Each of the four teams will have 20 minutes to convince the panel of the merits of the investment recommendations found in their written reports. The winner will advance to the Americas Regional competition in Denver, Colorado, from March 18–19, 2014.
To reach the finals, these four teams bested students from 16 top area business schools. The field was narrowed down to the Final Four on the basis of written reports and presentations on subject company, Colgate-Palmolive.
Colgate-Palmolive is a leading global consumer products company, tightly focused on Oral Care, Personal Care, Home Care and Pet Nutrition. Colgate-Palmolive sells its products in over 200 countries and territories around the world under such internationally recognized brand names as Colgate, Palmolive, Mennen, Softsoap, Irish Spring, Protex, Sorriso, Kolynos, Elmex, Tom's of Maine, Sanex, Ajax, Axion, Soupline, and Suavitel, as well as Hill's Science Diet and Hill's Prescription Diet.
The CFA Institute Research Challenge is sponsored by CFA Institute. S&P Capital IQ is the New York Local Final sponsor.
The Challenge is a global competition which tests the analytic, valuation, report writing, and presentation skills of university students. Local CFA societies worldwide host and launch local competitions involving teams of business and finance students from participating universities who work directly with a local company in researching and preparing a company analysis.
For more information on the New York Local Competition, please visit http://www.nyssa.org/research-challenge.
Press members with proper credentials who wish to attend may contact press(at)nyssa(dot)org. Space is limited.
About NYSSA
The New York Society of Security Analysts (NYSSA) is a leading forum for the investment community. NYSSA's mission is to serve the needs of all members and investment professionals and to educate the investing public. With nearly 9,000 members, NYSSA is the largest of the 135 societies worldwide that make up CFA Institute, which has over 105,000 members.