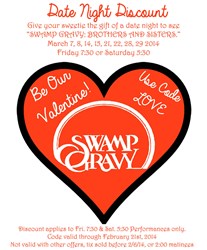 Colquitt, Georgia (PRWEB) February 11, 2014
"Dinner and a show" is a classic date night for a reason - everyone loves entertainment, and it's easy to bond over a meal and a shared experience. Swamp Gravy, Georgia's Official Folk Life Play, has the entertainment part covered with a unique experience of comedy, drama, and music.
SWAMP GRAVY:BROTHERS AND SISTERS follows Harvey as he seeks to reunite with his family, and mixes in other funny, touching, and heartwarming stories we all can relate to along the way. All the stories told in Swamp Gravy are true tales of Southwest Georgia, spiced up with local talent and original music (and a few old standards, too). Performances run March 7-29, 2014, with showings Fridays at 7:30 and Saturdays at 2:00 and 5:30.
Swamp Gravy is celebrating Valentine's Day this year with a special discount offer. Fans can use discount code "Love" at http://www.swampgravy.com to receive the special discount, and save on a date night they'll remember for years to come.