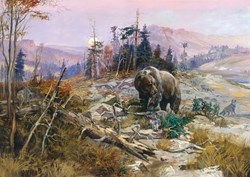 "Many of Russell's paintings and sculptures celebrate the majesty and harmony of nature," says "Harmless Hunter" guest curator B. Byron Price.
Jackson, WY (PRWEB) February 11, 2014
A new show, premiering in Jackson Hole, Wyoming, in May at the National Museum of Wildlife Art, will show a lesser known side of famous Western artist Charles Marion Russell. Though he's known as the "cowboy artist" for his popular artworks featuring cowboys, Native Americans and Western landscapes, Russell depicted wild animals in "roughly a quarter of his total production of paintings, drawings, and sculpture," says B. Byron Price, director of the Charles M. Russell Center and University of Oklahoma Press. Price is guest curator of "Harmless Hunter: The Wildlife Work of Charles M. Russell," a new touring exhibition that includes some rarely seen Russell artworks depicting wildlife and animals.
The "Harmless Hunter" exhibition, slated to open at the National Museum of Wildlife Art on May 17, 2014, was organized in collaboration with the Charles M. Russell Center for the Study of Art of the American West at the University of Oklahoma and is the first exhibition to focus solely on this aspect of his work.
Born in St. Louis, Mo., in 1864, Russell lit out for Montana at the age of 16, determined to become a cowboy. But after an unsuccessful first job on a sheep ranch, he met hunter and trader Jake Hoover, serving as Hoover's apprentice for two years and learning the ways of the wilderness. Those early experiences with wildlife, as well as those he later had over 11 years working as a cowboy and wrangler and throughout the rest of his life in Montana, served as inspiration for animals featured in numerous Russell works from illustrated letters to full-scale oil paintings.
The prolific Russell became very popular in his lifetime, producing thousands of artworks from his unassuming Montana studio. "Russell's wildlife art attracted avid patronage – from the publishers of books, magazines, and calendars seeking illustrations to wealthy businessmen anxious to decorate their clubrooms with scenes of nature and the hunt, symbols of what President Theodore Roosevelt called the 'strenuous life,'" explains Price.
Russell also captured the rapid changes to wild lands and creatures with the settlement of the West in his work. "Many of Russell's paintings and sculptures celebrate the majesty and harmony of nature and portray a symbiotic, if somewhat romanticized view of the relationship of Native Americans with the land," says Price. "Works featuring wildlife and human interaction, however, often address more problematic environmental themes, most of them a reflection of the rapid changes wrought by the onset of settlement, economic development, and near decimation of wild game."
The National Museum of Wildlife Art will offer a number of interactive events and activities in association with its debut of the "Harmless Hunter" exhibition, which also features a companion publication by B. Byron Price. The show will remain on display at the museum in Jackson Hole through August 17, 2014, before touring to the Sam Noble Museum in Norman, Okla., the Rockwell Museum of Western Art in Corning, N.Y., and the C.M. Russell Museum in Great Falls, Mont.
Company Information:
A member of the Association of Art Museum Directors and the Museums West consortium and accredited by the American Association of Museums, the museum, officially designated the National Museum of Wildlife Art of the United States by an act of Congress in 2008, provides an exciting calendar of exhibitions from its permanent collection and changing exhibitions from around the globe. A complete schedule of exhibitions and events is available online at http://www.wildlifeart.org. The museum is also active on Facebook and on Twitter at @WildlifeArtJH.
Contact:
Darla Worden, WordenGroup Strategic Public Relations, 307.734.5335, darla(at)wordenpr(dot)com.