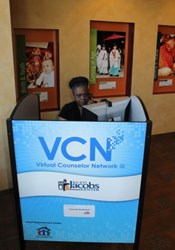 Virtual Counselor Network and various programs is a tremendous resource in this region
San Diego, CA (PRWEB) February 12, 2014
U.S. Department of Housing & Urban Development (HUD) has recognized the Housing Opportunities Collaborative (HOC) as the first collaborative agency of its kind, to be nationally identified as an industry leader in Housing Counseling. Housing Opportunities Collaborative, established in 2005, is the Nation's youngest and San Diego's first, HUD Approved Housing Counseling Intermediary.
Joining the ranks of 29 other nationally-recognized organizations, Housing Opportunities Collaborative is leading the pack in connecting the public to the services offered by partner agencies through the use of technology. As a housing counseling intermediary, their footprint covers over 70% of Southern California and serves close to 11 million people. Becoming an Intermediary means a new way to bring federal HUD funding to our region, and marks a milestone in the growth of a locally founded regional non-profit. With their signature Virtual Counselor Network (VCN), Housing Opportunities Collaborative has created a new medium with which to deliver services to their clients.
VCN centers, strategically placed in remote locations within San Diego, Riverside, San Bernardino, and Orange counties, extend HOC partner agencies' helping hands to those that cannot make it through their doors. Using VCN's current technology and communication tools, Housing Opportunities Collaborative directly connects clients to the appropriate resources and services provided by partner agencies to efficiently address public need for counseling services and resources. John Lawrence Victor, a tenant who recently utilized the VCN and grateful to HOC for resolving an issue with his landlord said "by videoconferencing with a counselor via the [VCN], I was able to solve the dispute [with landlord] without having to resort to any legal action. That saved me a lot of time and money." The HOC is currently seeking support to continue creating access points for the VCN and to bring its technology to smart phones and tablets as soon as resources permit.
"Housing Opportunities Collaborative with its Virtual Counselor Network and various programs is a tremendous resource in this region. We welcome HOC's designation as a national HUD Intermediary," said Frank Riley, Field Office Director of the San Diego HUD Office.
"We are proud to work with the Housing Opportunities Collaborative and support the Virtual Counselor Network (VCN), which provides residents with specialized counseling services and access to technology in areas where they may not be readily available," said Bob Annibale, Citi's Global Head of Community Development and Microfinance, and the lead funder of the VCN. "This national recognition by the Department of Housing and Urban Development is welcomed news and reinforces the importance of ensuring low-income and underserved communities have the financial tools necessary to make critical planning decisions and promote household economic growth."
Since 2007, HOC through its programs with partner agencies has assisted more than 12,000 families in Southern California with housing and related counseling needs. "These [programs] provided a legitimate solution and were led by professionals. The information and support I received was integral in saving my home," said Jeffery Broussard, a client who received housing counseling services through HOC partner agencies.
As a housing counseling intermediary, Housing Opportunities Collaborative is facilitating its partner agencies to broaden their reach, enabling a "one-stop" offering of services and resources to clients through the use of VCN. As a housing counseling intermediary, HOC along with its partners, continue to connect, educate, and provide access to counseling services for the public with effective training and quality support services that meet national industry standards and comprehensively meet clients' needs. "As nonprofit organizations find new ways to use technology to help more people, I believe HOC and the VCN will empower our local communities to provide innovative solutions that help meet the diverse needs of residents throughout the region," said Gabe del Rio, Board Chair of the Housing Opportunities Collaborative and Chief Operating Officer of Community HousingWorks.
"Through our partnership with recognized local nonprofits, agencies and professionals, we have built the opportunity to leverage local resources by utilizing technology to provide timely, relevant and sustainable solutions to problems facing our communities," says HOC's President & Executive Director Appaswamy "Vino" Pajanor. "At the same time, we will achieve a triple bottom line benefit through our collaborative efforts by helping more residents access diverse services faster, minimizing the travel time and lowering the costs for nonprofit service providers to serve more customers."
Local residents and homeowners can learn more and access the Virtual Counselor Network now at VirtualCounselorNetwork.org and Housing Opportunities Collaborative at HousingCollaborative.org.
# # #
About the Housing Opportunities Collaborative
Housing Opportunities Collaborative is a 501(c)(3) tax exempt non-profit organization, established in 2005 by a coalition of HUD approved housing counseling and fair housing agencies, other housing related nonprofit organizations, business organizations, and government agencies that support all aspects of housing rights and responsibilities. It was created to serve as an information clearinghouse by consolidating housing and related information, making it easily accessible to the public and partners. HOC also acts as a neutral convener for its partners by conducting outreach events to educate and provide housing counseling and related services to the public. HOC conducts capacity building training for its partners, and identifies and encourages best practices, in order to standardize counseling among partner agencies.
About the U.S. Department of Housing and Urban Development
HUD's mission is to create strong, sustainable, inclusive communities and quality affordable homes for all. HUD is working to strengthen the housing market to bolster the economy and protect consumers; meet the need for quality affordable rental homes; utilize housing as a platform for improving quality of life; build inclusive and sustainable communities free from discrimination, and transform the way HUD does business.