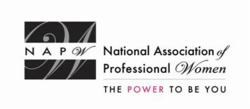 ...it was the perfect time to discuss: What's your game plan for success in 2014? We talked about the definition of success, how to develop a life plan and how we, as a Chapter, can...
Garden City, NY (PRWEB) February 11, 2014
It's a Year of Action! To kick it off in January, thousands of members and guests from NAPW Local Chapters gathered at professional networking meetings across the country. In the spirit of the new year, many Local Chapters hosted guest speakers who shared their expertise for achieving financial success in 2014. At every Chapter event, groups of professional women empowered one another by sharing their knowledge, their passions and their support as they set exciting goals for the year ahead.
A topic of discussion at nearly every meeting was the upcoming NAPW 2014 National Networking Conference Aspire. Connect. Achieve. on April 25, 2014 at the Marriot Marquis in NYC's Times Square.
"Star Jones, NAPW National Spokesperson and Chief Development Officer, will once again host this premier networking event!" said Louise Newsome, New York City Chapter President and NAPW National Director of Chapters. "I'm excited to announce that this year's Keynote Speakers are Barbara Corcoran, star of ABC's Shark Tank and Robin Roberts, award-winning journalist and anchor of ABC's Good Morning America. Plus, we have a dynamic lineup of expert panel speakers who will inspire everyone!"
NAPW anticipates 1500 professional women from around the country will attend this year's event and many Chapters discussed traveling as a group to the conference.
A number of Local Chapters, including Boston, MA; Carrollton, TX; Columbia, MD; Delmarva, PA; Los Angeles, CA; Manassas, VA; Norfolk, VA; Orland Park, IL; Philadelphia, PA and South Orange County, CA, focused on financial wellness in 2014. Many hosted speakers, from financial planners to insurance experts to savvy entrepreneurs, and held workshops to help members and guests achieve financial success.
"With the start of our Year of Action, it was the perfect time to discuss: What's your game plan for success in 2014? We talked about the definition of success, how to develop a life plan and how we, as a Chapter, can keep the emotion and excitement throughout the year," said Kim Orsag, Lancaster, PA Local Chapter President.
Goal setting, work/life balance, health and wellness, using social media to grow your business and issues women face in the workplace were other relevant topics of discussion at Topeka, KS; St. Petersburg, FL; San Mateo, CA; Pasadena, CA; Loudoun, VA; El Paso, TX; Covington, LA; Centennial, CO; Hartford County, CT; New Orleans, LA and Warwick, RI.
At the Alexandria, VA meeting, members and guests heard from supervisory special agent (SSA) Denise Minor of the FBI, a pioneer woman in the world of law enforcement, who talked about empowerment.
"The main learning points from SSA Minor's speech was that empowerment comes from within, knowing yourself and focusing on the positive at all times," said Christina Eanes, Alexandria, VA Local Chapter President. "It was a captivating talk that really resonated with all of us!"
The group of professional women in Bakersfield, CA got valuable tips for dressing for success from an image consultant and style coach. Members and guests in Greensboro, NC heard from guest speaker Valda Ford, MPH, MS, RN, who gave a very frank and informative talk titled, 'Sex is Not for Sissies.'
As always, networking dominated every Chapter meeting with members and guests making connections and building relationships that help foster professional and personal growth. In Philadelphia, members networked twice last month as they gathered over afternoon brunch and again at a new-member orientation.
"A couple of our members recently received business returns from invited guest speakers by connecting with them during and after a monthly meeting. That is how networking should work!" said Nicky Dare, Santa Clarita Local Chapter President.
At meetings in Rochester, NY; Omaha, NE; Waco, TX; Honolulu, HI; Jacksonville, FL; Long Beach, CA; Cleveland, OH and St. Louis, MO members also spent time discussing the many benefits of NAPW membership, made plans for charitable endeavors in the coming year and welcomed new members. Mentoring was also high on the list of projects to tackle in 2014.
Megan Wessels, President of the Chicago, IL Chapter, kicked off the 'Sisterhood Mentoring' initiative. It was the first of monthly group mentoring sessions designed for young ladies from 6th to 12th grade to learn and develop skills to become successful in both their personal and future professional lives.
"Mentors in the Sisterhood Program have volunteered their time to help young ladies develop essential leadership skills and better articulate their goals," she said.
Boston, MA President Lisa Strunin announced that the Chapter's successful mentoring program, MentorPeer, is now in its fourth month.
"This is an ongoing program for those individuals seeking careers at a later point in life; women who have come back into the workforce; professionals changing positions or careers due to downsizing; or senior level mentors helping younger professionals," said Ms. Strunin.
Last month, whether they listened to a guest speaker, spent time networking or made plans for future events, NAPW members gathered together to celebrate and support one another's personal and professional successes and set important goals for the coming year.
"We're excited for 2014! This year already promises great things to come," said Jennifer Garcia, President of Columbia, MD Local Chapter President.
The National Association of Professional Women (NAPW) is the largest and most recognized network of professional businesswomen. NAPW provides a forum where women can interact, exchange ideas, educate, network and empower. NAPW Local Chapters allow members to maximize their experience through meetings, networking opportunities and professional events.
For additional information regarding Local Chapters and/or NAPW, please visit http://www.napw.com.