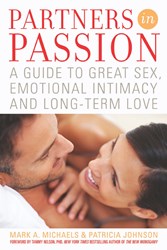 "With a thorough resource guide included, this book runs the gamut on sex education, and the authors' sex-positivity, feminism, and rejection of gender stereotypes makes it a welcome addition to the genre."—Publishers Weekly
(PRWEB) February 11, 2014
Partners in Passion authors Mark A Michaels and Patricia Johnson celebrate their Valentine's Day book release with New York City launch parties. Michaels and Johnson will share their latest relationship guide at Bluestockings on February 14 and SHAG Brooklyn on February 16. Partners in Passion was also chosen as one of three essential reads for this Valentine's Day by Publishers Weekly, saying "the authors' sex-positivity, feminism, and rejection of gender stereotypes makes it a welcome addition to the genre."
February 14, 7-9pm
Bluestockings, NYC, NY
Reading and launch party
Sunday, Feb 16th, 5-7pm
SHAG
Forget Everything You've Heard – Popular Relationship Myths Debunked
Brooklyn, NY
Just in time for Valentine's Day, award-winning authors deliver the definitive guide for all couples longing to create and sustain long-term, emotionally and physically charged relationships. Mark and Patricia explore how connecting and relating to a partner is far more important than technique. As a devoted married couple who have been teaching and writing about sexuality since 1999, Michaels and Johnson have compiled a comprehensive, imaginative and refreshing encyclopedia of information on everything needed to whisk any couple into their bedroom and keep them fulfilled and satisfied for the duration of their lives together.
A graduate of NYU and Yale, Mark A Michaels writes for scholarly and legal publications and his plays have been produced off-Broadway. He took his first Tantra class in 1997 and gave his first lecture on the subject two years later.
Patricia Johnson spent many years as a professional operatic soprano. In 1999, a longstanding interest in Tantra inspired her to attend a lecture by Mark Michaels, now her husband and collaborator. Since then, she and Michaels have taught and lectured throughout the world. They live in New York City.