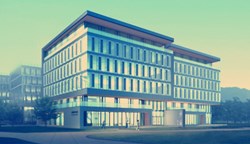 Los Angeles, California (PRWEB) February 11, 2014
Commercial Movers, a respected business moving company based in Los Angeles, California – proudly serving the entire continental United States by offering local, state, national and international business and family moving services – is set to unleash in-business and on-site exact estimates for customers. The goal of these newer, more accurate quotes is to allow businesses and families to know exactly what they will be spending on their moving services down to the last penny, to avoid the dreaded addition of added fees and hidden surcharges that have plagued this industry in the past and marred its reputation.
Moving Authority advised, in a mover's tips and guide they've published, that businesses seeking to move should request something called a "bill of lading" when obtaining estimates. This comprises the written contract between businesses and the movers, and is supposed to detail out every associated cost, including factoring in any possible or potential surcharges and added on fees for things like stairs, extra packing materials, shuttling of items, long carries and other fees that can commonly be added on. Doing so, the report advised, can enable a business to more precisely determine their actual moving cost.
"A lot of businesses don't know what important questions to ask or what to look for in a business moving company, simply for the fact that it is rather uncommon, moving companies state to state for example," explained company spokesperson, Tom Pinkus. "At Commercial Movers, we understand the cautious approach that businesses wish to take when examining any potential moving expenses. That's why we provide free, no-obligation and on-site business estimates to better determine cost. This includes full measurements, pound assessment and evaluation of any other factors that could add additional fees. Doing so empowers us to deliver a down-to-the-penny estimate that doesn't change when it comes to time to tender payment for services rendered."
About
Commercial Movers is a premier business moving company headquartered in Los Angeles, California and serving all of North America. The company specializes in local, county, national and international business moving services with a stringent focus on customer service and quality assurance. They recently have announced that they will be pairing up against the might of larger moving services with their forthcoming in-business exact estimates—which will provide businesses with an exact estimate of what their moving cost will be with no hidden fees or added charges after the fact.
You can learn more about their commercial moving services by visiting Commercial Movers online.
Press Contact:
Tom Pinkus
Commercial Movers
(424) 238-2070