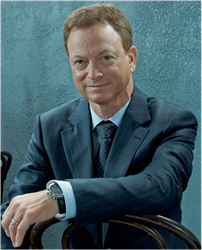 Freedom and security are precious gifts that we should never take for granted. While we can never do enough to show our gratitude to our nation's defenders, we can always do a little more ~ Gary Sinise
Arlington, VA (PRWEB) February 12, 2014
The National Defense Industrial Association (NDIA) is pleased to announce it will be presenting the prestigious 2014 Dwight D. Eisenhower Award to actor/humanitarian Gary Sinise for his continued support of America's service men and women, on April 11, 2014, at the Ritz-Carlton Tysons Corner in McLean, Virginia.
Sinise's dedication over the years to our nation's active duty defenders, veterans and first responders is well known and widely recognized. For over three decades, he has been a vocal and tireless advocate for those who protect our freedom and serve our country. He is best known for his roles as Lt. Dan in the blockbuster movie Forrest Gump and as Detective Mac Taylor on the hit CBS television show CSI: New York.
Members of the NDIA Board of Directors selected Sinise to receive the award because he has shown a unique dedication to the welfare of service men and women. "Most recipients of the Eisenhower award have been elected and appointed officials and military leaders. The Eisenhower Award has only been bestowed on one other entertainer in its history, and that was to the world renowned entertainer and humanitarian, Mr. Bob Hope. Mr. Sinise stands out as an inspiration to us all," said Arnold Punaro, Chairman of the Board." Punaro added, "Mr. Sinise has masterfully leveraged his celebrity to bring much-needed attention to the needs of our warfighters and their families. He is a connector, and a person who brings together individuals and industry to support our most critical asset – our people."
In 2011 he launched the Gary Sinise Foundation to honor our defenders, veterans, first responders, their families and those in need by creating and supporting unique programs designed to entertain, educate, inspire, strengthen and build communities. These include R.I.S.E. Outreach (Restoring Independence and Supporting Empowerment), whose flagship initiative is a custom Smart Home building project for severely wounded veterans. Each home is customized to ease their daily challenges and help restore independence with features like retractable cook tops, cabinets and shelving, elevators and more, all accessible via an iPad. Other programs include Relief & Resiliency Outreach, Invincible Spirit Festivals, Serving Heroes and Arts & Entertainment Outreach. Over the years, the Foundation has formed numerous corporate partnerships including American Airlines, Jos. A. Bank Clothiers, Sysco Foodservice and most recently with GE on their Get Skills to Work program to help veterans translate military skills into advanced manufacturing jobs while empowering employers with tools to recruit, onboard and mentor veterans.
Registration for the black-tie event, which will be highly attended by industry and government representatives from all sectors, can be found online at: http://www.ndia.org/dinner.
About the Dwight D. Eisenhower Award:
The Dwight D. Eisenhower Award is NDIA's most prestigious Award and is accompanied by the Eisenhower Medal. The Award is named in honor of President Dwight D. Eisenhower and serves to recognize his support for and contribution to a strong national security and robust defense industrial base both as President and as General of the U.S. Army. The Eisenhower Award and Medal recognize leadership and strategic impact at the highest levels of National Security. The Eisenhower Award is bestowed annually on an individual who best reflects President Eisenhower's beliefs and support for a strong national security and industrial base.
Among the criteria awardees meet are: U.S. citizenship and leadership; support of the military services and other security-related agencies, and active support of the defense industrial base and its programs.
About NDIA:
The National Defense Industrial Association (NDIA) is America's leading Defense Industry association promoting national security. NDIA provides a legal and ethical forum for the exchange of information between Industry and Government on National Security issues. NDIA members foster the development of the most innovative and superior equipment, training and support for warfighters and first responders through our divisions, local chapters, affiliated associations and events.
About Gary Sinise:
Actor/humanitarian Gary Sinise has been actively and tirelessly supporting the troops for over thirty years. Among his numerous film and television roles, it was his portrayal of Lt. Dan Taylor in the landmark film Forrest Gump which formed an enduring connection with servicemen and women throughout the military community. After several USO handshake tours in 2003, Sinise formed the "Lt. Dan Band" and began entertaining troops serving at home and abroad. Performing pop hits to classic rock staples, the 12 member cover band has played for over half-a-million troops and their families. His endless work on behalf of those who've served has earned him many distinguished awards including The Bob Hope Award for Excellence in Entertainment from the Medal of Honor Society, the Spirit of the USO Award, The Ellis Island Medal of Honor, and in 2008 he was given the Presidential Citizens Medal, the second-highest civilian honor awarded to citizens for exemplary deeds performed in service of the nation, only the third actor ever to receive this honor. He was recently presented with the Spirit of Hope Award by the Department of Defense and was named an honorary Chief Petty Officer by the Navy.