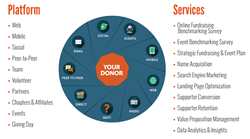 Fundraising is always a challenge, but fundraising solutions shouldn't be.
Austin, TX (PRWEB) February 11, 2014
Today Kimbia announced the availability of a free connector that will automatically import donation and registration data from the company's comprehensive Omni-Channel Fundraising™ Platform into Salesforce.com. This flexible connector reduces integration time and costs so that more nonprofits can take advantage of the powerful features in the Salesforce.com customer relationship management (CRM) system. Ultimately, this combination of best-of-breed fundraising and CRM solutions enables nonprofits, higher education institutions and community foundations to develop deeper donor relationships, and achieve greater brand awareness, giving and loyalty.
"Fundraising is always a challenge, but fundraising solutions shouldn't be," said Dan Gillett, CEO, Kimbia. "So-called all-in-one systems are often a mix of acquired systems that require nonprofits to pay huge sums and wait months or years to make them work together. Then, too often they do not deliver the superior results nonprofits need to fulfill their mission. With Software as a Service (SaaS) solutions such as ours, nonprofits can have the best of three worlds – superior functionality in each operational area, integration, and cost effectiveness."
About Kimbia Solutions
Unlike most fundraising systems listed on the Salesforce AppExchange, Kimbia's Omni-Channel Fundraising solution is comprehensive in scope and applicability. The company also provides services built on proven practices for online fundraising. This expertise is especially important because of the following:
1) Online-acquired donors who give to and share your mission across many channels have the highest lifetime value.
2) Online revenue growth is outpacing all other channels.
3) Online campaigns are engaging major donors and more participants who in turn can spread your mission across more communities and continents.
Learn More About Kimbia Solutions
Interested individuals can contact Kimbia here and stay up to date on the latest company news by subscribing to the monthly newsletter.
About Salesforce.com
Salesforce.com is the world's largest provider of customer relationship management (CRM) software. For more information about salesforce.com, visit: http://www.salesforce.com.
About Kimbia
Our flexible, best-of-breed, Omni-Channel Fundraising™ platform enables you to create a deeper donor relationship by leveraging the strengths of each channel and putting your donors at the center of all development activities. Ultimately this approach results in greater brand awareness, giving and lifelong loyalty. Kimbia is proud to support more than 5,000 customers to date, including the American Heart Association, Smithsonian Institution, YMCA of Metropolitan Dallas, Columbia University, Georgetown University, WGBH – Boston, KCSM – San Mateo, The Ragnar Relay Series, Beijing International Triathlon, MetroPCS Dallas Marathon, Communities Foundation of Texas, Community Foundation for Greater New Haven and The Boston Foundation. For more information, visit http://www.kimbia.com.