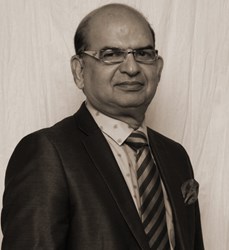 The Canadian dollar will slide to at least $0.90 relative to the US dollar, the Euro will correct down to 1.32 Euros, the British pound will fall to 1.60 GBP to the US dollar - all showing reduced vigour against the American market
Burlington, Ontario (PRWEB) February 14, 2014
February 14, 2014 - Liaquat Mian, LJM Developments CEO predicts most currencies will fall in relation to the US dollar through 2014 due to the US's early stimulus movements to boost the American economy.
A newswire on CBC News on January 14, 2014 reports that "The Canadian dollar will also move lower along with a number of other Western nations against the greenback as the US economy continues to improve. The Canadian dollar will slide to at least $0.90 relative to the US dollar, the Euro will correct down to 1.32 Euros, the British pound will fall to 1.60 GBP to the US dollar - all showing reduced vigour against the American market," Mian prognosticates.
The caveat to this devaluation may just be the Chinese and Japanese currencies. Mian states that "China is estimated to surpass the US as the largest economy in the world as early as 2015, which is five years earlier than previously predicted by most economists. This will assuredly increase the perceived value of their currency and raise those of its Asian counterparts, already being seen in Japan, with the highest Yen value in five years."
Although G20 nations will see slight currency devaluations against the US dollar, other developing nations have even more to be concerned about in relation to their currencies. Nations that are not part of the European Economic Union will continue to see their currencies fall (Source: frabatlanta.org | September 2013) as strong economic blocs in North America, Europe and Asia continue to dominate says Mian. The South African Rand, the Polish Zloty, and the Hungarian Forint will see their currencies devalued through 2014 according to Mian.
Areas of political unrest such as Turkey will also be adversely affected in a global market that is searching for safe investments in the short term. CNBC reports that Turkey will continue to see turmoil (December 27, 2013) and economic downturn as the country's political activities continue to dog their economy. With $100 billion lost to this political unrest, the Turkish Lira will continue to fall predicts Mian.
Mian believes the highlighted market trends and the forecasted movement in currency markets will cause precious metals to suffer. Precious metals (CNN Money | February 2014) including gold and silver may peak slightly in 2014 but will generally fall to pre-2009 levels as commodity corrections take place. Gold will see its value fall to $1,200 an ounce and should remain stable at that level. Gold has lost its shine as individual and institutional investors will be looking for stock market purchases to exit the precious metals category.
Due to the strong greenback, real estate has already started to make a come back as the growth trend of apartment sales in Manhattan (Financial Times | January 3, 2014) is the highest ever showing major markets for real estate are already coming back. Furthermore, the number of US building permits are up substantially increasing the overall real estate development numbers. Mian argues this trend will permeate other western nation's urban markets where value is perceived to be had.
According to Mian, there is significant value in the Canadian real estate market because of its relative inexpensive real estate in comparison with other major western urban centers. Although the Greater Toronto Area (GTA) as a whole will see continued growth, more attention and development will be seen between Toronto and Niagara Falls since the government has announced plans to extend the 407 highway to Niagara Falls and the GO train will be expanded to Grimsby. Through these recent announcements, major real estate developments are expected in Burlington, Hamilton and Grimsby through to Niagara Falls.
Mian believes the currency war throughout 2014 will be a major story to watch as nations attempt to combat the devaluation of their currencies and try to force corrections through possible currency raising tactics, such as interest rate changes and foreign investment incentives.
About Liaquat Mian
Mr. Mian is the CEO of LJM Developments, a real-estate development company based in Burlington, Canada. Mr. Mian is a Chartered Accountant by profession and a member of the Fellowship of Chartered Accountants. He is a frequent blogger and gives talks on state of Global economy, real-estate markets, and currencies. Mr. Mian brings 20 years of experience in financial services and real-estate investment.
Disclaimer
The opinions stated in this article are those solely of Mr. Liaquat Mian, and do not represent financial or investment advice, and may not represent L JM developments. Individuals must seek independent qualified financial advice from a licensed financial services provider before making any investments. Opinions, predictions, and forward looking statements in this article should not be used for making financial decisions or investments. Investors must be aware of the risks involved in making investments and must seek professional advice.