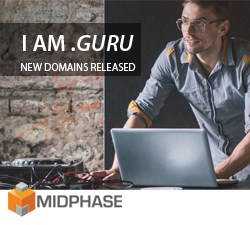 There has been so much talk about these new TLDs during the last six months. The day is finally here!
Salt Lake City, Utah (PRWEB) February 11, 2014
The Internet is no longer as you know it. This morning, Midphase put a new range of Internet addresses on sale that will change the way we use the Internet forever.
Today, domain names won't just end in the familiar .com, .net, and .org. Instead, they'll end in a series of new ways. Midphase has just put .bike, .clothing, .venture, .holdings, .plumbing, .singles, and even .guru on sale with many, many more in the coming weeks.
"There has been so much talk about these new TLDs during the last six months. The day is finally here!" said Sara Cunha-Rego, the director of hosting and domain products at Midphase. "They're going to be very popular. Most businesses will try to secure a domain that says exactly what they are about. Managing to secure a domain name using the current TLDs is becoming more and more difficult. This is a huge opportunity."
The new domain name endings, which are officially called generic top-level domains (gTLD), have been created by ICANN, the body that coordinates domain names, to bring the Internet up-to-date with demand for online space.
"This is an historic milestone for ICANN's new gTLD program and the Internet as a whole," said Christine Willett, the vice President of gTLD operations. "The year ahead will be defined by new opportunities in a vastly expanding online landscape."
It will take a matter of moments for Midphase's customers to get hooked up with a new domain name. They just need to visit the Midphase website, enter the domain name they want in an easy-to-use domain name finder, and then take their desired domain name to the virtual check-out.
ABOUT MIDPHASE
Since 2003, Midphase has provided budget, shared, advanced and other types of Web hosting services to a wide variety of customers ranging from individuals to small businesses. Midphase is a subsidiary of the UK2 Group, a significant player in the European and U.S. Web hosting markets, providing domain registration, affordable website hosting and dedicated servers to customers globally. Utilizing state of the art data centers, Midphase is able to provide advanced security and high availability to customers at an affordable price. Midphase is committed to providing reliable, cutting-edge products and services at a great value, underpinned with superior client support. For more information about Midphase, visit http://www.midphase.com.