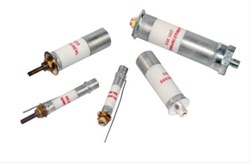 Westbury, New York (PRWEB) February 11, 2014
Sprague Goodman Electronics, a globally recognized leader providing passive component solutions such as variable capacitors, varactor diodes and tuning elements for MRI, NMR, RF, Military and Microwave applications, is pleased to announce an update to the Non-Magnetic Variable Capacitor product line.
"Since the initial launch of the ceramic SGNM line in 2007, we have seen a tremendous amount of demand from the Magnetic Resonance Imaging industry in addition to NMR and Semiconductor manufacturers for our non-magnetic variable capacitors. The current MRI industry is producing over 2,000 units per year. The global market for these systems is approximately $4.13 billion, and is expected to grow to approximately $5.24 billion by 2018 based on recent reports. Our technology, customization options and quality has us very well positioned to participate in the growth of the industry. I am very excited to continue working on unique projects with our global customers," said David Ditlya, President. (David Ditlya holds US Patents for High Voltage Non-Magnetic Variable Capacitors).
In November 2012, Sprague Goodman announced the expansion of its high voltage variable capacitor line for MRI and NMR applications with the SGNM Product Line. The SGNM is the industry's first high voltage non-magnetic ceramic dielectric trimmer capacitor line. The ceramic dielectric makes the parts more stable and versatile than other high voltage capacitors while offering a more compact design. A variety lead configurations, including surface mount, and shaft options are available.
"I spent the last 8 years developing a product line that would achieve the working voltage, Q, capacitance range, reliability, and stability that the industry needs for next generation MRI and NMR projects. After 6 years of testing and refining by our engineering and quality control departments along with a small group of customers, we are properly positioned for a broad launch. The SGNM series may be tuned at temperatures as low as -4⁰k for use in cryogenic applications. In the past, I designed high voltage non-magnetic capacitors for Voltronics and Johanson, my latest SGNM product line is a significant upgrade," said David Ditlya, President.
In addition to the SGNM Series, Sprague Goodman's Non-Magnetic product lines include:

A full listing of the non-magnetic variable capacitor lines may be found at the company's website – spraguegoodman.com.
Sprague Goodman Electronics, Inc. has been at the forefront of design, manufacturing and customization of passive components for the medical, defense, technology and telecom industries since 1972.