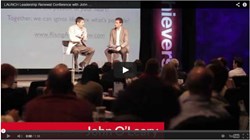 At LAUNCH, attendees will create the plan they need to make 2014 the year they surpass their sales goals, grow their relationships and enjoy the quality of life they want.
St. Louis, MO (PRWEB) February 11, 2014
A limited number of tickets are still available to the inaugural LAUNCH Leadership Renewal Conference presented by lifestyle organization Rising Above with John O'Leary. Resiliency expert John O'Leary will host the leadership conference which will be held at the Renaissance Grand St. Louis Hotel March 13-14, 2014.
LAUNCH is open to executives, small business owners and leaders from the St. Louis region and across the country. At the conference, John O'Leary and a panel of experts will help participants identify their struggles in both business and life. From shrinking budgets to disengaged staff, to the inability to break through to the next level professionally or unhappiness in personal relationships – O'Leary and his expert panel will tackle the pain points that commonly plague business people.
"At LAUNCH, attendees will create the plan they need to make 2014 the year they surpass their sales goals, grow their relationships and enjoy the quality of life they want," O'Leary said. "I'm excited for the opportunity to empower leaders to make the possibilities in their business and life a reality."
O'Leary was once a nine-year-old boy who nearly died in a tragic fire. Today his life's mission is to teach others how to truly live. He gained his international acclaim as an inspirational speaker, sharing his awe-inspiring story and his realization that "the hottest fires form the strongest metals."
O'Leary applies this message to the business environment and has inspired 1,000+ clients since 2008, including clients such as Southwest Airlines, LEGO, Verizon Wireless, Northwestern Mutual, Entrepreneurs' Organization and The Colorado Rockies. He encourages clients to recognize that "the business challenges they are experiencing today can absolutely be leveraged to produce the business successes they are striving to reach tomorrow."
Greg Clouse, Senior Vice President of Insperity, title sponsor of LAUNCH Leadership Renewal Conference, said he has personally been inspired and motivated by O'Leary in the past.
"When John spoke with the Insperity team 3 years ago, we were moved to be better people and better team members. We still talk about how our lives and business were brought 'to the next level' that day," Clouse said. "Being a sponsor for LAUNCH is absolutely on par with our mission to help businesses succeed so communities prosper. I can't wait to experience this event with my leadership team."
Additionally, LDI Integrated Pharmaceutical Services is sponsoring the LAUNCH event. The LAUNCH speaker panel includes Business Psychologist and Executive Coach Roger Hall and President of The Varley Group and Washington University Director of Discernment for Executive MBA Programs, Edie Varley, among others.
Seating at the LAUNCH Leadership Renewal Conference is limited, and tickets are available for a limited time only at http://www.rising-above.com/launch-home/.
About Rising Above with John O'Leary
John O'Leary's unique perspective was garnered from a fire that was expected to take his life at the age of nine. John is the president of Rising Above, a lifestyle organization built to empower individuals and organizations to take back their life, ignite their possibility and change their world. Beyond inspirational speaking, Rising Above offers live and web-based personal development and coaching programs. John created the Spark! 21 Day Challenge so that you could ignite your possibility today. Take the challenge here: RisingAbove.com/Spark. John is working on his first book and his greatest accomplishment in life is being a loving husband and father of four.