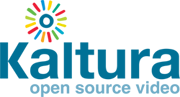 The powerful combination of Kaltura and IBM Connections empowers employees with intuitive video tools that they are already comfortable using within their social business environment
New York, NY (PRWEB) February 11, 2014
Kaltura, the leading open source video platform, announced today that it has released a new Video Extension for IBM Connections. Kaltura's extension combines the company's market leading enterprise video platform with IBM's leading social business software, into a seamless user experience that leverages video to dramatically improve collaboration, knowledge sharing, and communications across the organization. The Kaltura Video Extension for IBM Connections is approved as "Ready for IBM Social Business."
"In today's workplace, employees are looking to collaborate and communicate just as they have become accustomed to in every other facet of their lives – to that end, employers need to adapt and embrace trends like social media, video communication and mobile proliferation," said Ron Yekutiel, Kaltura Chairman & CEO. "The powerful combination of Kaltura and IBM Connections empowers employees with intuitive video tools that they are already comfortable using within their social business environment, while providing peace of mind to IT by allowing to securely centrally manage all rich media content in the organization."
Kaltura's Video Extension will drive increased user engagement and adoption of the IBM Connections, dramatically increasing the value and ROI of the collaboration platform.
Key features of the Kaltura Video Extension for IBM Connections:

Employee Generated Content (EGC) tools: video upload, webcam capture, screen recording, video presentation (PowerPoint sync), and mobile device capture for simple creation of video by any user directly within IBM Connections
Personal Media Library for every employee: Each employee has their own 'my media' page that allows them to upload content once and re-publish / re-use in multiple places
Video everywhere: media can be embedded with a single-click within IBM Connections forums, blogs, wikis, activities, profiles, etc.
Community media galleries: searchable libraries of videos (including in-video search), with granular access control and moderation workflows, allowing community members to interact and contribute content in a controlled manner
Cloud-based video editing: videos can be made more engaging and concise by editing them before publishing
Full mobile and device support: optimal playback on any device allows employers to reach their employees on the go
Supports both live broadcast and on-demand recorded video
Kaltura's IBM Video Extension is built based on the Kaltura Application Framework. This allows for businesses and their users to enjoy ongoing rapid innovation on the Kaltura platform that is easily rolled out to the IBM Connections extension as well. For example, customers enjoy the cross-application "My Media" component, which allows users to upload once and easily repurpose videos in multiple applications across the organization. Using applications based on the Kaltura Application Framework, organizations can centrally manage all media content and associated metadata and avoid overhead and silos.
Learn more about the Kaltura IBM Video Extension at: http://www-304.ibm.com/partnerworld/gsd/solutiondetails.do?&solution=50461&lc=en
And http://corp.kaltura.com/Products/Video-Applications/IBM-Connections-Video-Extension
About Kaltura
Kaltura's mission is to power any video experience. Provider of the world's first Open Source Online Video Platform, Kaltura simplifies the creation of video experiences, and provides tools that facilitate innovative and engaging experiences that create value. The Kaltura platform engages hundreds of millions of viewers by providing media companies with advanced video management, publishing, and monetization tools that increase their reach and monetization and simplify their video operations. Kaltura improves productivity and interaction among millions of employees by providing enterprises with powerful online video tools for boosting internal knowledge sharing, training, and collaboration, and for more effective marketing. Kaltura offers next generation learning for millions of students and teachers by providing educational institutions with disruptive online video solutions for improved teaching, learning, and increased engagement across campuses and beyond. For more information: http://www.kaltura.com, to join Kaltura's community visit: http://www.kaltura.org and http://www.html5video.org.