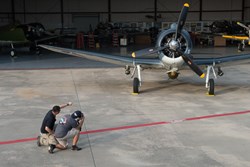 'All in all, it was a fantastic workshop for me – the little tips and tricks that help much… they shared a lot of info, in the workshop – and are a great bunch of guys to hang around as well.' - Kedar Karmarkar
Peachtree CIty, Georgia (PRWEB) February 12, 2014
Photographs of aircraft and their crewmembers from the Second World War have served to inspire several generations of photographers, becoming icons for both portrait and aviation photographers worldwide. Camera technology has advanced dramatically, along with the digital post-processing tools that allow photographers to both emulate and improve upon the images that inspire them. With this in mind, 3G Aviation Media (http://www.3gaviationmedia.com) conducts workshops that teach photographers the organizational skills to set up a dramatic photo shoot, along with the technical skills to capture, edit and craft spectacular images of classic aircraft.
March 28-30 at the Commemorative Air Force (CAF) - Dixie Wing's hangar at Falcon Field in Peachtree City, GA, workshop participants from all walks of life and all levels of photography skill will have the chance to make these kinds of iconic photographs while sharpening their skills as photographers. 3G Aviation Media and the CAF - Dixie Wing have paired together to provide participants not only a glimpse into the Dixie Wing's stunning array of vintage aircraft, but also to provide a unique opportunity for photographers eager to develop their current skill set. Topics at the workshop will include planning and executing static sunrise and sunset photo shoots, photographing models and re-enactors, learning about working with aircraft and flight line safety, shooting aircraft details, post-processing and work-flow techniques, and how to critique images.
This workshop is the second in a series where 3G Aviation Media has collaborated with the CAF – Dixie Wing to bring photographers together with classic aviation subjects. The combination of the Dixie Wing Squadron's mission to "honor American military aviation through flight, exhibition, and remembrance", with the mission of 3G Aviation Media to "provide attendees an opportunity to learn, plan, execute, and develop as photographers in a small group environment while working with first-rate aviation subjects," guarantees that attendees will have an experience like no other. The entire workshop series is available for registration at: http://3gaviationmedia.com/workshop/.
As a previous workshop attendee Kedar Karmarkar said in his blog:
"All in all, it was a fantastic workshop for me – the little tips and tricks that help much… they shared a lot of info, in the workshop – and are a great bunch of guys to hang around as well."
The three "G"s of 3G Aviation Media, Tony Granata, Doug Glover, and Matt Genuardi, each bring to the workshop series their various areas of expertise in photographing aircraft. Tony Granata instructs in post-processing of images and has extensive experience capturing a perspective from above, by shooting from helicopters. Matt Genuardi adds his expertise in working with models and professional lighting equipment. Doug Glover adds yet another aspect with his expertise in "packing for the location", using small strobe lights, and dealing with the aircraft, pilot, and aircraft safety. The CAF Dixie Wing, a 501C3 non-profit, is comprised of volunteer members who strive to maintain these aircraft in flying condition so that they can be utilized to educate the community will be providing several photo subjects. These photo subjects will potentially include an SBD-5 Dauntless (one of only 3 in flying condition in the world), an FG-1D Corsair, and an LT-6D "Mosquito". In addition to the vintage aircraft, the Dixie Wing and 3G have collaborated to bring in re-enactors and models at various times during the workshop.
The partnership between the CAF Dixie Wing and 3G Aviation Media for this workshop is truly a rare opportunity for photography enthusiasts. For more information on the aviation workshop or to register as a participant in the workshop, visit the website at http://3gaviationmedia.com/ or contact Moreno Aguiari, Dixie Wing Marketing Coordinator, at marketing(at)dixiewin(dot)org. http://www.dixiewing.org
The Commemorative Air Force is a non-profit organization dedicated to flying and restoring World War II aircraft in Honor of American Military Aviation. Based in Midland, Texas, the organization has over 10,000 members and operates a fleet of over 157 vintage aircraft distributed to 83 units located in 25 states. http://www.commemorativeairforce.org
3G Aviation Media is a joint venture between a group of aviation photographers who wanted to partner for specific projects while still retaining their own brand and artistic identity. - Tony Granata, Matt Genuardi and Doug Glover. With the a mantra of "Learn, Plan, Execute, Develop", the 3G team brings a disciplined, one-on-one approach that is focused on the workshop attendee, providing maximum growth over a short, focused period of instruction