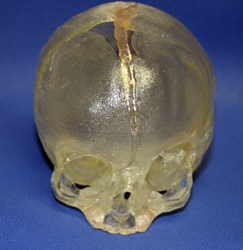 3-D Modeling and Virtual Planning will decrease the time spent in the operating room.
Huntington, New York (PRWEB) February 12, 2014
A team of surgeons at Stony Brook University led by Dr. Michael Egnor, Professor of Neurosurgery and Dr. Elliot B. Duboys, Associate Professor of Plastic Surgery, have successfully remodeled the skull of a 6-month-old infant assisted by computerized virtual surgery and 3D modeling.
The baby was born with a rare congenital deformity known as plagiocephaly in which one of the growth plates of the skull fuses prematurely resulting in a flattened forehead, prominence of the opposite forehead as well as orbital asymmetry.
Working with the engineers at Medical Modeling Inc. in Golden, Colorado, a copy of the child's CAT scan was sent. Using Computerized Assisted Design, Dr. Duboys planned the surgery virtually over the internet. Once the virtual surgery had been planned, 3-dimensional models were fabricated of the child both before and after the planned surgery so the surgeons could accurately predict the immediate results.
The surgery was performed successfully using the models as guides. The length of the procedure was shortened significantly because of the preoperative virtual surgical planning. Post-operatively the child has done extremely well.
----
About Dr. Elliot Duboys, a board certified plastic surgeon since 1985, has provided top quality, personalized care to his patients for more than 30 years. He specializes in Cosmetic, Pediatric and Reconstructive Plastic Surgery. In addition, Dr. Duboys is a member of many prestigious organizations including the American Society of Plastic & Reconstructive Surgeons, multiple local and regional Plastic Surgical Associations, and the American Cleft and Craniofacial Association. He is the co-founder of the Stony Brook University Hospital cleft and craniofacial team which he headed for 22 years. Dr. Duboys has been named to the Castle Connolly Guide to the Best Plastic Surgeons in New York since 1997 and has made the list of Newsday's top 10 Plastic Surgeons since 2010.
----
About Dr. Michael Egnor is a board certified pediatric neurosurgeon and professor and vice-chairman of the Department of Neurosurgery at the State University of New York at Stony Brook. He has practiced at Stony Brook Medical Center for 23 years, and collaborates with Dr. Duboys on the management of children with craniofacial disorders. He conducts extensive research on brain blood flow and cerebrospinal fluid flow.
Additional information: http://associatedplasticsurgeons.com/release_2014-02-10
Pediatric Plastic Surgery: http://associatedplasticsurgeons.com/pediatric-plastic-surgery/