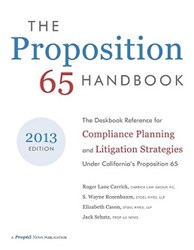 The Proposition 65 Handbook is an invaluable practice guide. I don't know what we would do without it.
San Diego, CA (PRWEB) February 12, 2014
The 2013 Edition of the Proposition 65 Handbook is the fourth installment in the series, which was first introduced in 1994. Since then, the Handbook has become an invaluable guide to regulatory professionals and attorneys practicing in this very specialized field. This unique legal reference book is written by seasoned Proposition 65 litigators, and is devoted to covering litigation and regulatory issues under the statute in detail. The 2013 Edition adds more than 200 pages of new material, covering key events through November 2013.
The 2013 Edition makes extensive additions to several critical areas covered by the book, including:

Recent chemical listings and controversies
Appellate decisions impacting Proposition 65 practice
Proposition 65 Reform efforts
Federal preemption of Proposition 65
Proposition 65 trials
Litigation and settlement trends
Related legislation in California and other states
Statistics on case filings and settlements
The 2013 Edition builds on the prior three releases to provide the practitioner a comprehensive guide to practice and compliance with California's most vexing environmental law.