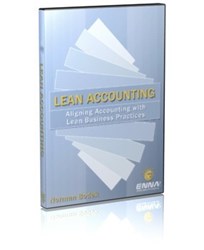 As a business owner and in charge of the financials, I found this DVD to be very helpful.
Lake Oswego, OR (PRWEB) February 20, 2014
A business that is just starting out or a long-term business that has made the decision to go lean will appreciate learning the principles of lean accounting. Creative Safety Supply is now offering a DVD in Lean Accounting that will demonstrate how accounting personnel can affect changes and improvements in an organization. The DVD starts out explaining the concepts of lean and JIT (Just in Time) and moves on to showing examples of work experiences as told by Norman Bodek, an auditor and accountant for Productivity Press.
As a company implements lean principles into their structure, the financial statements will often show a temporary hit to the bottom line as deferred labor and overhead move from the inventory account on the balance sheet to the expense portion of the income statement; thereby, lowering profits. The DVD will explain the basics of lean manufacturing and why CPAs may need to use alternative accounting practices to help business owners and management better understand the benefits the process brings to their operations.
A business owner commented, "As a business owner and in charge of the financials, I found this DVD to be very helpful."
The DVD is meant to be a spark for setting a new culture of change within the company. The training tool will teach both instructor and the audience about lean and how it can be used to make improvements in how a company works.
Some features about the DVD are:

Ways to save a company millions of dollars
Two pillars of the Toyota Production System
A powerful perspective of the accountant's role
The missing ingredient in a successful lean transformation
How to positively change the balance sheet
How to focus on customer's needs
Only 45 minutes in length
For more information about the Lean Accounting DVD, please visit Creative Safety Supply at http://www.creativesafetysupply.com or call toll-free (866)777-1360 to speak with a professional representative.