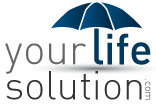 The permanent coverage is good regardless how long the insured lives, the term is a gamble each time the applicant reapplies and could become a financial chasm should the insured live past 85
Chicago, IL (PRWEB) February 10, 2014
YourLifeSolution.com has recently conducted an analysis of the aggregate cost of purchasing life insurance as five separate policies throughout a man's life starting at age 35 and reapplying every ten years to maintain coverage until age 85 versus the total cost of having a guaranteed level policy for life. Even when the most ideal assumptions were made about the ongoing health of this applicant, the total cost of purchasing the lowest cost term policy five times in order to reach 85 years-old was only 6.5% less expensive than the permanent option. According to YourLifeSolution.com, if the theoretical applicant's health had deteriorated at any time in the fifty years of being insured, the total cost of permanent life insurance would have fared far lower. Also, if the applicant had perished after 85 years-old, the coverage could have become so astronomically expensive that it would have been of little use.
YourLifeSolution.com's purpose of this comparison was to illustrate that purchasing life insurance in short term increments to meet lifelong obligations is risky, arbitrary and more expensive in most cases than simply purchasing a guaranteed level option for life. "This comparison was not meant to say that the 'buy term invest the difference' concept is without merit, but it was meant to show that it is not true in all scenarios", said Eric Smith, the founder of YourLifeSolution.com
According to this analysis, the aggregate cost of purchasing five separate ten year term policies to insure a completely healthy 35 year-old and to re-insure this same applicant each decade until the applicant is 85 would be $110,416.80. The aggregate cost for a healthy 35 year-old man to apply once and have a guarantee for life is $117,600. The previous figures are based on currently available prices for term and permanent life insurance. "The permanent coverage is good regardless how long the insured lives, the term is a gamble each time the applicant reapplies and could become a financial chasm should the insured live past 85. If a customer is willing to commit to maintaining coverage for life, permanent life insurance is almost definitely a better option, not to mention, it precludes the client from the hassle and risk of reapplying numerous times throughout their life", said Eric Smith.
YourLifeSolution.com provides both permanent and term life insurance solutions and purports that neither is the ideal option for all applicants or scenarios. Competing rates on both types of products can be instantly viewed at YourLifeSolution.com. Rates can also be acquired by phone by calling Eric Smith at 888.374.2764.