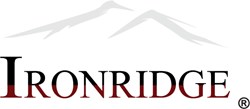 New York, NY (PRWEB) February 11, 2014
Ironridge Global Partners, LLC, an instiutional investor in micro-cap public companies, is meeting with executive management of micro-cap public companies at the 16th Annual BIO CEO & Investor Conference on February 10-11, 2013 at The Waldorf-Astoria New York.
About Bio CEO
The BIO CEO & Investor Conference is the largest investor conference focused on established and emerging publicly traded and select private biotech companies. Because its mission is to support industry-wide success, it presents a broad and unbiased view of investment opportunities. BIO One-on-One Partnering provides an opportunity to arrange meetings between investors; companies; and industry BD, licensing and therapeutic franchise heads. For more information please visit http://www.bio.org/events/conferences/bio-ceo-investor-conference.
About Ironridge Global
Ironridge Global Partners, LLC is an institutional investor, making direct equity investments in small-cap and micro-cap public companies. Ironridge Global has completed over 60 transactions since 2011, ranging from a half million dollars to more than $15 million each, for Nasdaq, NYSE MKT, ASX, OTC Bulletin Board and Pink Sheets companies. Ironridge Global Partner's principals have handled several hundred billion dollars in public company financing transactions over more than two decades. Ironridge Global's extensive industry experience includes life sciences, medical devices, energy, clean technology, solar power, natural resources, consumer food & beverage and other products and lastly media and technology. To learn more about Ironridge Global Partners, please visit http://www.ironridgeglobal.com.