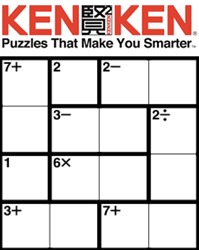 If you like Lumosity, you'll LOVE KenKen. They are Puzzles that Make You Smarter.
Pleasantville, NY (PRWEB) February 17, 2014
KenKen, the fastest growing brain-exercising puzzle in the world will soon take to the skies! DTI,the software division of market leading inflight entertainment expert Advanced Inflight Alliance AG, the world's leading in-flight games provider has signed a multi-year agreement with specialty toy and puzzle company Nextoy LLC to license the highly popular logic and math puzzle game KenKen® to airlines around the world.
"When we launched KenKen in the U.S., we knew its popularity would grow quickly, and thanks to DTI, airline passengers around the world will now be able to enjoy the game during their flight," said Robert Fuhrer, Founder and President of Nextoy.
KenKen will be available for both wireless and seatback in-flight entertainment systems as part of DTI's catalogue of games. With grid sizes ranging from 3X3 to 9X9 and dozens of difficulty levels, passengers will be able to pit their wits against challenging puzzles and exercise their minds throughout their flights.
"KenKen's simple gameplay and international appeal make it an ideal addition to any airline's in-flight gaming catalogue," explained Walé Adepoju, Chief Operating Officer of Advanced Inflight Alliance AG, Parent company of DTI. "DTI is at the forefront of the in-flight gaming market and we are thrilled to add KenKen to our extensive catalogue of casual gaming brands as we serve over 100 international airlines around the world."
KenKen was originally developed in 2004 by a Japanese mathematics professor to help his students improve logic, critical thinking, math abilities and problem solving skills. The puzzle became an overnight sensation for both adults and children and quickly became the most popular new puzzle in Japan. Shortly thereafter, in 2008, Nextoy launched KenKen in the United States. Today KenKen® is a daily feature in over 150 national and international newspapers including the New York Times, the LA Times, and the Times (UK), with many millions of puzzles solved each month in print, online at http://www.kenken.com, and via its iPhone / iPad and Android apps. The perfect puzzle for kids, adults and seniors, KenKen can found in publications as diverse as the AARP bulletin, Scholastic magazine, and the New York Times.global eagle entertainment