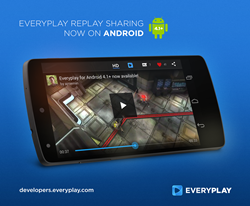 "Our unique technology is the key deciding factor on why some of the world's largest companies in mobile games choose Everyplay both on iOS and Android," said Jussi Laakkonen, CEO & founder of Everyplay
San Francisco, California (PRWEB) February 11, 2014
Applifier Ltd today launched the Android version of Everyplay®, the mobile gaming network designed to help game developers attract and engage players with social sharing of game replays. Everyplay is the only game replay service in the market capable of supporting Android 4.1 and up, and the most popular Android devices such as Samsung Galaxy SII, SIII, S4, Galaxy Note devices, LG Optimus devices, Nexus devices from Google, and many more.
"The common wisdom was that replay sharing would be impossible on Android 4.1, but we made it work. Everyplay for Android 4.1 and up supports even the most CPU & GPU intensive games like Dead Trigger 2. Everyplay lets developers bring replay sharing to over 60% of the global Android market versus only 10% as with competing offerings," said Jussi Laakkonen, CEO & founder of Everyplay. "Our unique technology is the key deciding factor on why some of the world's largest companies in mobile games choose Everyplay both on iOS and Android."
Bringing Everyplay to Android 4.1 and up gives Android game developers expanded opportunities to employ Everyplay's powerful replay sharing, game discovery and player engagement capabilities to significantly increase word-of-mouth and, ultimately, bottom lines.
"We just launched an update with Everyplay support for Dead Trigger 2 and the fans have really taken to it with over 18,000 replays shared in just a few days," said Marek Rabas, CEO & Co-founder at MADFINGER Games, a.s. "We've been testing Everyplay's Android version in Dead Trigger 2 and it works great. We'll be bringing it out to our Android players very soon!"
Since its iOS debut last year, over 6 million players have joined and 275 iOS games have already integrated Everyplay successfully building in-app communities around their biggest fans. Over 2.6 million game replays have been shared to date through Everyplay with over 600,000 replays in January alone, growing monthly at a current rate of 20%, and making Everyplay the largest and fastest growing social video service for mobile games.
Everyplay game replays dramatically improves discoverability to games, with top indie games like Stair Dismount are seeing up to 7.5% of their daily installs originate from Everyplay. Everyplay's in-game communities substantially improve player engagement and loyalty for mobile games like Bad Piggies, Turbo Racing League, Tiny Troopers 2, and Agent P DoofenDash.
Everyplay is a free service for developers and users on Android and iOS devices. Everyplay for Android is now available at https://developers.everyplay.com/.
About Applifier
Applifier enables game developers to more effectively acquire and monetize audience through a comprehensive suite of tools, including Everyplay® Replays and Everyplay® GameAds. In 2011, Applifier became the largest cross-promotion network of independent social application developers on Facebook, reaching over 150 million monthly active users. In 2012, Applifier launched the Everyplay® Replays beta for mobile game replay sharing, and in 2013 launched Everyplay® GameAds in-game video advertising network to acquire high quality users and increase monetization for mobile games. Applifier is backed by Lifeline Ventures, MHS Capital, PROfounders Capital, Tekes, Webb Investment Network and angel investors, and has offices in Helsinki, Finland and in San Francisco, CA. For more information, please visit http://www.applifier.com.